An Afternoon with Jessica Whipple

An Afternoon with Jessica Whipple
Author of Enough Is...
Saturday, April 22, 2023 from 12:00 PM - 2:00PM

ABOUT THE EVENT
Join us for an afternoon of family fun! Local author Jessica Whipple will read her children's book Enough Is... starting at 12:00PM. She will also stick around to answer questions and sign copies afterwards.
ABOUT THE BOOK
In a world where we are constantly urged to seek out the newer, better, best, debut children's author Whipple makes a solid case for the concept of Enough. A fascination with bears has taken hold over a diverse neighborhood, with children throughout the book donning trendy bear-themed apparel. Amid the fad, the brown-haired, light-skinned protagonist explores the idea of Enough while learning to find fulfillment in their own bear sweater, purchased from a thrift store rather than the "Fancy Clothes" shop or "Better Market." How many stories before bedtime are Enough? How many sandwiches? Bubbles? Friends? Sometimes, Enough means that we can share lunch with someone in need, give someone else a turn, or give someone money. There is happiness to be found, because after all, "when you find Enough, it's easy to share." The soft textures of Wong's illustrations add a gentleness and warmth to Whipple's lyrical text with a balanced palette of neutral and vibrant colors that seem to echo the sentiment of the title. Although young readers may miss some of the subtler details of the visual narrative, it's overall a good introduction to a valuable yet abstract idea that is bound to spark discussion as kids consider what Enough means to them. -- Kirkus Reviews

ABOUT THE AUTHOR
Jessica Whipple writes picture books. Her debut picture book titled ENOUGH will be published by Tilbury House and is tentatively set to release Fall 2022. She has sold articles to Highlights that are awaiting placement and is a long-term DIY contributor to Wildflowers: A Creative Magazine for Girls. She also writes poetry for children. Visit her website at www.authorjessicawhipple.com
Author's headshot by Nick Gould.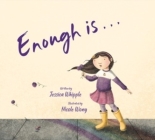 $18.95

ISBN: 9780884489320
Availability: On Our Shelves Now
Published: Tilbury House Publishers - April 18th, 2023
---
Event date:
Saturday, April 22, 2023 - 12:00pm