Mortal Refrains: The Complete Collected Poetry, Prose & Songs of Julia A. Moore, Queen of the Obituary Poets (Paperback)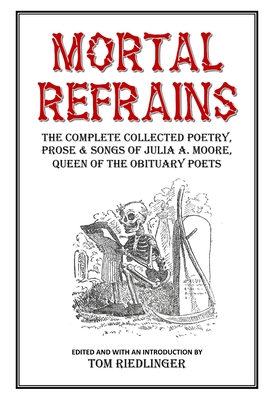 $14.95
Email or call for price.
Description
---
"Shakespeare, could he read it, would be glad that he was dead." So read one contemporary review of a book by Julia A. Moore (1847-1920), the Sweet Singer of Michigan, Queen of the Obituary Poets. In the late 1870s, this gifted writer of hilarious bad verse had a national following. Mark Twain wrote that he always carried with him a copy of Julia's first book of poems, THE SENTIMENTAL SONG BOOK (1876), finding in them "the same grace and melody that attracted me when they were first published twenty years ago, and have held me in happy bonds ever since." He attributed their "deep charm" to Julia's innocent habit of making "an intentionally humorous episode pathetic and an intentionally pathetic one funny." MORTAL REFRAINS is the first complete collection of Julia's poetry, short stories, and songs, including sheet music. Also included are newspaper interviews published during her lifetime and parodies of the genre that was Julia's m tier: obituary poems, written either to accompany, or inspired by, newspaper death notices. Considered together, these various writings cast new light on the Sweet Singer's legacy. As noted by one of the scholars who vetted MORTAL REFRAINS for publication, Julia was authentically a poet even though she wrote in a "homely" style: "Her poetry is stimulating, fresh, creative, and original. The reader is constantly being surprised by her far-fetched images, and by her original turns of syntax. This is a book which could be used in any creative writing class. It could be used in any class dealing with the taming of the American frontier-either a literature class or a history class. It gives insight into frontier mentality, and into the relationship between tragedy and comedy. The material is inspirational, and could be used to inspire young writers either in the writing of poetry or in the writing of parody. There is something very earthy and very gutsy about Julia Moore's poetry. It touches a nerve.