Self-Regulation Strategies Workbook: Fun Activities, CBT Exercises, Relaxation Techniques and Complete Self-Regulation for Kids To Manage Emotions and (Paperback)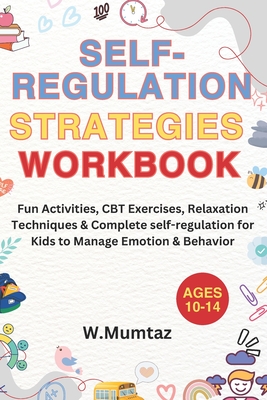 $11.99

Usually Ships in 1-5 Days
Description
---
Has your kid ever become so enraged that he began to scream?
Is your child drowning, screaming, or pushing herself on the floor to express her displeasure?
When your child is upset, do they cry for a moment or sit in front of the TV for hours?
Are you confused as to why your kid is so emotional?
Why did she become so enraged by situations that other children seemed to ignore?
Or why does it take her so long to recover from her misjudgments?
If
YES
Then keep reading... It is
impossible
to hide your child's incompetence to regulate their feelings. Children who experience strong emotions can jump from zero to 100 in a matter of seconds, and they are subject to frequent behavioral and emotional outbursts that leave parents puzzled and hopeless. Other parents may have informed you that it's only a stage or that your child requires discipline. In actuality, your child may suffer from emotional dysregulation, a drive to overreact to situations that other children ignore.
Self-Regulation Strategies Workbook
is a practical guide to de-escalating your child's feelings and assisting them in expressing their emotions in useful ways. You'll learn
CBT-inspired methods
, such as mindfulness and validating skills, and put them into practice when your child's emotions run out of control. This well-researched book for dealing with emotions can assist your child in making significant emotional and behavioral changes.
This book aims to use
Self-Regulation
Activities and
CBT
to assist kids in working through emotional issues. Because this is a workbook, it combines theoretical principles with
practical tasks
so that parents and children may gradually become acquainted with concepts and practice their skills together while playing and learning new ways to face
life and its challenges.
This is a book that both parents and children should have. It educates children about
feelings
,
emotion regulation
, and
self-control
. It is a great social-emotional resource for parents, counselors, and teachers
This workbook includes:
Part-I
: Emotions management activities, including feelings worksheets and fun drawings.
Part-II
: Getting Rid of negativity, including activities that will lead to a positive lifestyle.
Part-III
: Emotional regulation individual and group exercises, CBT exercises, and Relaxation exercises. With
the Self-Regulation Strategies Workbook
you will learn to react when your kid has big emotions. This will also help your kids control their feelings before they get into big emotions. Click the
"Buy Now"
button, Start reading this book and have fun learning emotional control.