50 Short Spooky Storiеs in Spanish A Bilingual Journеy in English and Spanish: Haunted Tales in English and Spanish Learn Spanish Language (Paperback)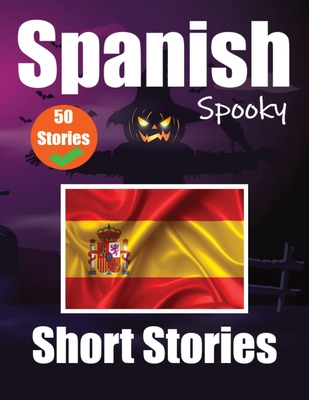 We are sorry we cannot fulfill order. Please check out BOOKSHOP.ORG and choose Penguin Bookshop as your store of choice
Description
---
Dare to Read? "50 Short Spooky Stories: English & Spanish Adventure"
Immerse yourself in a captivating world of ghostly tales and mysteries that push the boundaries between the tangible and the ethereal. With each story masterfully penned in English and accompanied by its Spanish translation, the book is an ideal treat for fans of thrilling narratives as well as those keen on enhancing their language skills. Delve into a spectrum of eerie settings - from haunted mansions and farms to tales of cursed treasures and chilling omens.
The benefits of bilingual reading are manifold. Not only does it bolster cognitive capabilities and memory, but it also offers an enriching linguistic experience in both English and Spanish. In essence, this book doesn't merely entertain; it acts as a catalyst for both brain development and language mastery.
So, are you prepared to venture into a realm where the lines between reality and the supernatural are artfully blurred? "50 Short Spooky Stories: English & Spanish Adventure" promises a unique experience that educates as much as it excites. Your next haunting tale beckons