Rescate en White Angel The G-Squad / Rescue in White Angel The G-Squad (Paperback)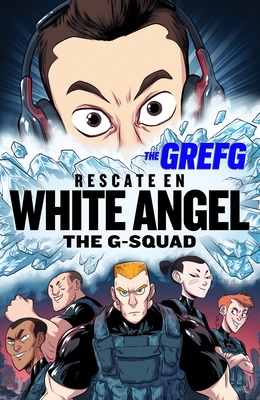 $13.95
Email or call for price.
Description
---
David "TheGrefg" Cánovas es uno de los Youtubers más importantes de España, conocido por sus partidas en directo de Call Of Duty.El libro está ambientado en el universo del videojuego Call of Duty que hizo famoso a The Grefg, por lo cual va a gustar tanto a los seguidores del canal como a los seguidores del videojuego.La saga de videojuegos tiene muchísimo éxito crítico y comercial. En total, la saga ha vendido más de 55 millones de copias totales de sus juegos, y ha recaudado más de 3.000 millones de dólares. También se han comercializado otros productos de la franquicia como figuras de acción, juego de naipes y una mini-serie de comic books.Cinco reclutas de la escuela de preparación para soldados de élite han sido seleccionados para realizer escenario real, White Angel. Pero cuando la incursion de un comando terrorista hace saltar las alarmas, lo que solo era un entrenamiento se convierte en una misión de verdad. En esta situación desesperada, uno de los reclutas en tiempo real con la esperanza de que sus superiors adviertan que están siendo atacados y manden ayuda.Pero el efecto secundario de emitir el vídeo públicamente es que toda la comunidad youtuber (incluido el propio The Grefg), podrá ver en directo los acontecimientos que están sucediendo en White Angel. De este modo, miles de youtubers liderados por The Grefg participarán activamente de la misión de esos cinco reclutas, que de repente, se convertirá en una guerra 2.0 emitida en directo por YouTube.ENGLISH DESCRIPTION

David "TheGrefg" Cánovas is one of the most important YouTube stars in Spain, known for his live Call of Duty games. The book is set in the universe of the Call of Duty video game, which made TheGrefg famous, making this book a hit both with his YouTube followers as with fans of the game.

Five recruits from the prep academy for elite soldiers have been chosen to carry out a real-world scenario, White Angel. But when a raid by a terrorist cell sets off alarm bells, what was just a training becomes a true mission.

But the after-effect of broadcasting the video publicly is that all of the YouTube community (including TheGrefg himself,/i>) can see live the events happening in White Angel. In this way, thousands of YouTubers led by TheGrefg will participate actively in these five recruits' mission, which will suddenly become a war version 2.0, broadcast live on YouTube.
About the Author
---
David Cánovas González (Santa Cruz de Tenerife, 1971) es un director y realizador de televisión canario. Estudió en la facultad de Ciencias de la Información de la Universidad Complutense de Madrid en la misma clase que Alejandro Amenábar y Mateo Gil entre otros. A su vuelta a Tenerife empieza a trabajar en televisiones locales, mientras realiza sus primeros cortos con cierto éxito local. En 1998 se desplaza nuevamente a Madrid en los que empieza a trabajar en varias productoras como editor y realizador. En el año 2002 graba su cortometraje Mate con el que obtiene numerosos premios en el territorio nacional. En el año 2003 graba Sin remite con el que obtiene entre otros premios el de la mejor producción canaria en el Festival de Cortometrajes de Arona y el segundo premio del concurso Caja Canarias para cortos. En 2005 cuenta con el actor José Coronado en El intruso con el que sigue cosechando premios y una nominación a los Premios Goya en el apartado mejor cortometraje de ficción. En 2006 rueda en formato 35 mm el cortometraje Cambio de turno con el que cuenta con un buen elenco de actores españoles, y que se estrena en 2007. En sus guiones siempre cuenta con José Amaro Carrillo y Rubén Sánchez Trigos. Compagina su faceta de realizador de televisión (Supernanny, Clever!) con los cortometrajes y actualmente se encuentra intentando preparar su primer largometraje titulado Los huéspedes basado en un guion de Rubén Sánchez. En 2016 estrena La punta del iceberg, basada en la obra teatral homónima de Antonio Tabares, en la que una gran multinacional se ve obligada a tomar cartas en el asunto y hacer una investigación interna por el suicidio de tres de sus empleados. Sofía Cuevas (Maribel Verdú) será la encargada de realizar las pesquisas correspondientes para esclarecer los hechos. La investigación sacará a la luz los abusos de poder, mentiras y un ambiente laboral opresivo como estrategia para maximizar resultados reduciendo personal.