Los piratas de Pompeya / The Pirates of Pompeii. (MISTERIOS ROMANOS #3) (Hardcover)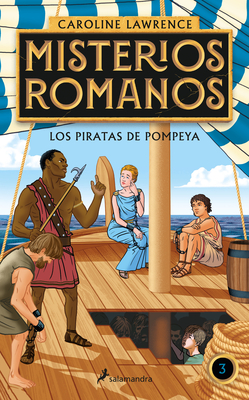 $12.95

Coming Soon - Available for Pre-Order Now
Other Books in Series
This is book number 3 in the MISTERIOS ROMANOS series.
Description
---
Este tercer volumen de la colección «Misterios romanos» vuelve a combinar con gran amenidad el rigor histórico con las aventuras de sus jóvenes protagonistas. Además de disfrutar de divertidas historias de detectives, los niños aprenderán cómo era la vida en la antigua Roma.

La erupción del Vesubio ha dejado un panorama desolador. La ceniza cubre la tierra, el mar se tiñe de rojo y las olas arrojan a lasplayas los cuerpos de las víctimas. Y cuando algunos niños empiezan a desaparecer de un campamento que acoge a cientos de refugiados, Flavia Gémina y sus amigos Jonatán, Nubia y Lupo entran en acción. Sus pesquisas los conducirán hasta El Patrón, un carismático y poderoso personaje, y tras seguir una peligrosa pista, la pandilla llegará a las cuevas de Sorrento, donde se las verán con piratas y traficantes de esclavos y sabrán por primera vez lo que es estar en peligro de muerte.

ENGLISH DESCRIPTION

The third installment in Caroline Lawrence's internationally bestselling The Roman Mysteries series which once again combines with great ease, historical rigor and the adventures of its young protagonists. In addition to enjoying fun detective stories, children will learn what life was like in ancient Rome.
 
Set in the terrifying aftermath of the eruption of Mount Vesuvius, the third book in this highly praised mystery series takes young sleuth Flavia Gemina and her friends in search of pirates and slave dealers.
 
The eruption of Mount Vesuvius has left a bleak picture. Ash covers the land, the sea turns blood red, and the waves expel the victims' bodies onto the beaches. And when some children begin to disappear from a camp that hosts hundreds of refugees, Flavia Gémina and her friends Jonathan, Nubia, and Lupo jump into action. Their investigations lead them to El Patron, a charismatic and powerful character, and after following a dangerous clue, the gang reaches the caves of Sorrento, where they will face pirates and slave traders and for the first time will feel what it is to be in danger of death.
 
A terrifically exciting story packed with superb historical detail.
About the Author
---
CAROLINE LAWRENCE (Londres, 1954) creció en California y se trasladó a Cambridge, Inglaterra, con una beca para estudiar Arqueología Clásica. Posteriormente se graduó en Estudios Hebreos y Judíos en la Universidad de Londres. En 1999 tuvo la idea de escribir una serie de novelas juveniles ambientadas en la Antigüedad Clásica, y dos años más tarde se publicaba Ladrones en el foro, la primera entrega de la serie Misterios Romanos. En 2007 y 2008, la BBC adaptó las novelas para la televisión, y en 2009, The Classical Association le otorgó un premio por su «valiosa contribución a la difusión y comprensión de los clásicos». Además de los libros protagonizados por Flavia Gémina y sus amigos, Caroline Lawrence ha publicado otras series, como las situadas en el Lejano Oeste o el Londres romano. En la actualidad vive a orillas del Támesis con su marido, un prestigioso diseñador gráfico y autor de no ficción.