Dance Electronic Music: Historia, cultura, artistas y álbumes fundamentales (Guías del Rock & Roll) (Paperback)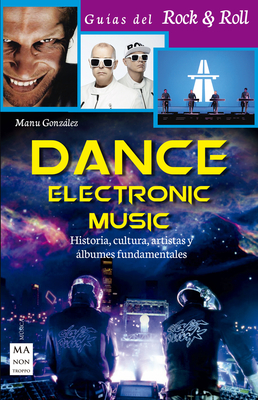 Description
---
The history of electronic dance music is the history of its instruments and clubs, its DJs and communities, and also its drug scene. These elements have together transcended traditional musical canons to create something new and exciting. This book is a journey through 40 years of sounds and rhythms from all corners of the world, from Jamaica to Angola, Tokyo to London, Berlin to Barcelona, and Detroit to Chicago, through a global musical genre that's never stopped innovating.

La historia de la música electrónica de baile es la historia de sus instrumentos, de sus clubs, de sus dj's, de sus comunidades y también de sus drogas. Porque todos estos aspectos han sido inherentes a una cultura musical, vanguardista y futurista, que ha trascendido los cánones tradicionales de la música de baile, experimentando y trazando nuevos sonidos que la convertían en algo poderosamente nuevo y excitante.   Este libro es un viaje a través de cuarenta años de sonidos y rítmicas imposibles procedentes de todos los rincones del mundo. Desde Jamaica a Angola, de Tokio a Londres, de Berlín a Barcelona, de Detroit a Chicago, una música global que no deja de generar nuevas tendencias que invitan al baile y vivir sin complejos.
About the Author
---
Manu González is a Spanish journalist who has collaborated with numerous arts and culture publications. He is currently the coordinator of digital cultural magazine Blisstopic.com and hosts the music and cinema radio program Phonobang.