Body Language: The Art of Reading and Influence People Through Nlp and Body Language in Order to Handle Manipulation and Avoid Narcis (Paperback)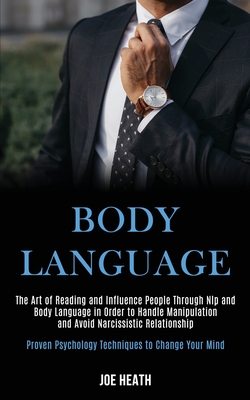 $19.95

Usually Ships in 1-5 Days
Description
---
Psychology has the dark side and the positive side of it. People will apply the dark side to utilize your potential and finally live your life. However, others will use the better side to build you, change consciousness, and communicate. The book gives you a chance to discover and learn hypnosis, seduction, or even reverse psychology, deception, brainwashing, manipulation, and persuasion. To achieve your life objectives along with your partners, it's of great advantage to understand and see from a distance what your partners are thinking or planning toward your life goals. The book is here to help you know why do people think from a different perspective, why they do things differently, and also tell when people are telling the truth or a lie. To the leaders, psychology will play a significant role in helping you study how the employees are responding to the working environment and even discover problems prior. There no beginners and professionals in psychology as it all depends on how you stay with those surrounding you; thus, the book fit everyone willing to take the journey of psychology.
In this guide, you will discover:
The fastest method for turning on and embracing the power within you (hint: the skills you need are already within you )
How to read what someone's leg position is really saying about what they want
The sure signs that someone is lying or trying to mislead you -- and how you can beat them at their own game
How to get a truly accurate first impression of someone even if you've always been a poor judge of character
Why you might be killing your relationship by not understanding your partner's personal space, and how to save it before it's too late
The 4 main gestures that reveal a person's desires that you will read immediately
How you're revealing your personality in your body language, and how to conceal it like a professional poker player
How to completely avoid a dysfunctional person or relationship -- within seconds of meeting them
Wrapped up within the concept of body language are the notions of reading and projecting. In communication, we are sending a message; however, that message is only successful when it is correctly interpreted and responded to. This implies that the sender must use clear body language signals to convey their message. This is called projection. Only once the person who is on the other end of the connection has interpreted the combination of signals and responded as desired can we state that the message was successfully delivered or read. By using the biological feedback mechanism, where we interpret a constant stream of signals from those we communicate with, we can adapt our own body language techniques to be more persuasive.