Year of the Monkey (Paperback)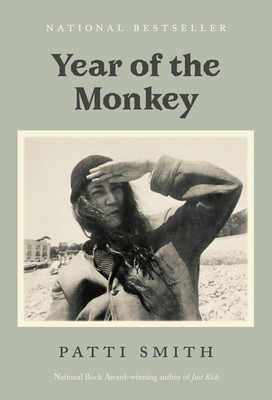 List Price: $17.00
Our Price: $16.00
(Save: $1.00 6%)
Description
---
NATIONAL BESTSELLER • Riveting, elegant, humorous—this "picaresque voyage through Patti Smith's dreams and life, blending fiction and reality, conjured characters and actual ones" (The New York Times) is a moving and original work, a touchstone for our turbulent times. Illustrated by Smith's signature Polaroids.

Following a run of new year's concerts at San Francisco's legendary Fillmore, Patti Smith finds herself tramping the coast of Santa Cruz, about to embark on a year of solitary wandering. Unfettered by logic or time, she draws us into her private wonderland, in which she debates intellectual grifters and spars with the likes of a postmodern Cheshire Cat. Then, in February 2016, a surreal lunar year begins, bringing unexpected turns, heightened mischief, and inescapable sorrow. For Smith—inveterately curious, always exploring, always writing—this becomes a year of reckoning with the changes in life's gyre: with loss, aging, and a dramatic shift in the political landscape of America. 

Taking us from California to the Arizona desert, from a Kentucky farm to the hospital room of a valued mentor, Smith melds the western landscape with her own dreamscape in a haunting, poetic blend of fact and fiction. As a stranger tells her, "Anything is possible. After all, it's the Year of the Monkey." But as Smith heads toward a new decade in her own life, she offers this balm to the reader: her wisdom, wit, gimlet eye, and above all, a rugged hope for a better world.
 
Including a new chapter, "Epilogue of an Epilogue," and ten new photos, Year of the Monkey "reminds us that despair and possibility often spring from the same source" (Los Angeles Times).
About the Author
---
PATTI SMITH is the author of Just Kids, which won the National Book Award in 2010, and of M Train, as well as numerous collections of poetry and essays. Her seminal album Horses has been hailed as one of the top 100 albums of all time. In 2005, the French Ministry of Culture awarded Smith the title of Commandeur des Arts et des Lettres; she was inducted into the Rock and Roll Hall of Fame in 2007.
Praise For…
---
"Deft and enigmatic. . . . Year of the Monkey reminds us that despair and possibility often spring from the same source."
—Los Angeles Times

"A beautifully realized and unique memoir that chronicles a transformative year in the life of one of our most multi-talented creative voices."
—NPR

"[An] unclassifiable, symphonic exploration of dreams, love, loss, and mending the broken re - alities of life."
—Maria Popova, Brain Pickings

"Poignant, gorgeous—a picaresque voyage through Patti Smith's dreams and life, blending fiction and reality, conjured characters and actual ones. She writes of seeing her image reflected on the surface of the toaster: 'I noticed I looked young and old simultaneously.' That describes her spirit perfectly." 
—Maureen Dowd, The New York Times
 
"Elegant, poetic, wildly entertaining, touching—a beautifully realized and unique memoir that chronicles a transformative year in the life of one of our most multi-talented creative voices. Part travel journal, part reflexive essay on our times, and part meditation on existence at the edge of a new decade of life . . . Effortlessly weaving together fiction and nonfiction, Smith takes readers on two unique journeys: one that can be traced on a map and one, infinitely richer and more complex, that takes place inside her head and heart. Smith's musical career sometimes threatens to overshadow her accomplishments in other creative fields—but every page in this book is packed with enough outstanding prose to constantly remind readers that Smith is an accomplished novelist, essayist, and poet who won the National Book Award in 2010. In her capable hands, a simple look at New York City in winter becomes a flash of beautiful poetry. Smith's approach to nonfiction is unique and brave: It counts as true if it happened, if she imagined it, and if she felt it. This is a book about Smith and the world all around. And that is just one more reason why everyone should read it." 
—Gabino Iglesias, NPR
 
"Moving—an account of physical and intellectual wanderings . . . Smith does not rage against her approaching 70th birthday, nor does she turn away from it. She finds art everywhere, and remains a pioneer, the same rules-shattering poet and National Book Award-winning writer . . . She is, as she writes in Year of the Monkey, 'still going about my business, that of being alive, the best I can.'" 
—Jack Cline, The Washington Post

"Miraculous . . . A dream-driven, reality-reclaiming masterpiece laced with poetry and philosophy and surrealism and the hardest realism there is: that of hope . . . Smith is aglow; she moves through this world as a time-traveler, an eavesdropper, a vagrant, a vagabond in the land of literature and life; she is a human mirror. She. invites us to relinquish the different names we give to the living of life and just live it, with all its disorienting uncertainty. Reflecting on clarifying dreams, worrying for our shared future, Smith reminds us that the only remedy for a broken reality is more truth. She reaches, with a lucid and luminous hand, for the buoyancy that is our lifeline." 
—Maria Popova, Brain Pickings
 
"A lucid dream of a memoir . . .Smith sees mystical connections everywhere—and, floating along on the drifts of her words, the reader does, too." 
—The New Yorker
 
"Deft and enigmatic. . . Life  can't help but confound us; love is enough to sustain us, and loss, if not revocable, can, for the moment, be redeemed. [But] Smith is too smart for easy consolations; she has been through too much . . . She summons this scene, this moment, giving it the weight of a reckoning. Year of the Monkey reminds us that despair and possibility often spring from the same source."
—David L. Ulin, Los Angeles Times
 
"Smith began writing Year of the Monkey on New Year's Day 2016, a transformative year for the artist that brought aging, the loss of friends, and overall disillusionment. Juxtaposed with this personal narrative are Smith's descriptions of western landscapes she visited . . . Fact and fiction increasingly blur, a combination made surreal by Smith's obsession with details that keep popping up in various locations . . . A gripping tale of the search for meaning in times of turbulence—expressed with Smith's signature poetic flair."
—Christian Allaire, Vogue
 
"Since 1975, Patti Smith has been blurring the lines between music, poetry, and prose, howling with grief and roaring with delight, whether onstage or via the written word. Year of the Monkey [is] her preternatural latest memoir . . . In this slim, hallucinatory volume, Smith roves the country in real time, visiting favorite haunts, hitching rides with strangers, contemplating the fuzzy border between waking and dreaming, and mourning the results of the 2016 presidential election. But just as a sense of gloom begins to settle, the sun peeks through the clouds. For while 'there is nothing in heaven like the suffering of real life...,' she writes, 'I still keep thinking something wonderful is about to happen.'"
—Leigh Haber, O, The Oprah Magazine
 
"Lyrical, poignant . . . [the book] chronicles Smith's travels and beautifully veers between dreamlike solitary reveries. Smith gives voice in the book to a national feeling of grief framed by her own personal losses; she sums up the nexus of aging, steeped in reflection and loss. She notices every detail like a photographer, with her words exquisitely framed by nuance." 
—Solvej Schou, Associated Press
 
"Reading about [Smith's life] makes the world shimmer with possibility. We follow her as she hitchhikes through the desert and gets left for dead, meets weirdos and mystics in diners up and down the coast, then takes off for Kentucky to help the playwright Sam Shepard finish his final project. A book full of riddles and fantasies [and] about one woman's 2016. Grief on a colossal, national scale has a way of making the most personal, quotidian sufferings feel small and unimportant. At the same time, it makes those typical human tragedies appear suddenly of a piece with the world around them. Patti Smith writes beautifully." 
—Kaitlyn Tiffany, Vox
 
"A fascinating journey . . . powerful stuff. Smith [has a] peculiar brand of wandering—dead phone, no car, scant provisions, vague itinerary . . . The book has little about music, [but] what's there is priceless. Year of the Monkey [also] includes charming, quirky photos by the author, and achingly sweet recollections." 
—Claude Peck, Minneapolis Star Tribune
 
"In her third memoir, Smith is both haunted and joyed by the passage of time. Losses surround her [in] the year she turns 70—a year of devastation, with catastrophes both unique to her life and ones shared across America. As she crosses the country in a series of solitary adventures infused with the memories of her life on the road, she meets the world with curiosity and openness. The many [who] revere Smith will take a thrill in her vivid recollections of long ago days on the stage and the streets of Greenwich Village, while anyone consumed by the fears of today will find them expressed vividly by a beautiful voice." 
—Adrienne Gaffney, San Francisco Chronicle
 
"Smith's grace and erudite philosophy is a welcome balm in these times . . . Her latest memoir is an introspective look at her year of solo wandering—she documents that year's massive political and social change her own lyrical way. The American canon is littered with 'road trip memoirs,' but if there's a voice we'd want to add to that genre, it would be Smith." 
—Town & Country
 
"Lovely, dreamlike . . . a slim volume [with a] minor-key melancholy. The punk poet's latest memoir unfold like the stack of old Polaroids in her New York apartment: 'One after another, each a talisman on a necklace of continuous travels.'" 
—Entertainment Weekly

"Compelling—ruminations, adventures, unexpected connections: [this] personal, cross-country odyssey captured by her prose and Polaroid portraits finds Smith mining magical moments within even the most seemingly mundane of circumstances. She weaves threads of everyday experiences and warm recollections together in the manner of a waking dream. Funny moments make Smith relatable.  The narrative thread is transformation.  She is equally a participant and observer of life; as much as art provides sustenance and solace for her in troubled times, by the end she is invoking a greater call to action. If there is anyone capable of living in the past, present and future simultaneously, and occupying space between reality and dreams, it is Smith. It may not be easy to conveniently explain Smith's style or approach, but that is not the point. You simply need to surrender to it to be inspired." 
—Bryan Reesman, Newsday

"One of America's finest memoirists. Funny and weird, sober and sad, Year of the Monkey is simultaneously a travelogue of Smith's journeys through California, Arizona, Portugal and Kentucky; a fantastical dream-journal full of imagined conversations; and a clear-eyed meditation on Smith's relationships with two of her oldest, dearest friends—playwright Sam Shepard and music producer Sandy Pearlman—who passed away as she was writing it. It's perhaps the closest she's come to synthesizing the penetrating maturity of her latter-day writings with the improvisational wildness of her early free-form poems and songs." 
—Andrew Barker, Variety
 
"In her poetic prose and [with] snaps of her trusty Polaroid camera, Smith captures truth and beauty, challenges and victories. Year of the Monkey traces her year of wandering across California's Santa Cruz coast and the West, searching for answers for questions she never knew she had . . . Smith's writing is impressionistic; fact and fiction intermix and she captures authentic moments that never fade away." 
—Drew Tewksbury, Los Angeles Times

"Whether it's guttural, poetic lyricism or compassionate nonfiction, Patti Smith's writing style and ability are truly unrivaled. In Year of the Monkey, her words are paired with Polaroids as she explores aging, grief and the dire global embrace of right-wing nationalism." 
—Lizzie Manno, Paste

"In the time since her exquisite memoir Just Kids won the National Book Award in 2010, godmother of punk Patti Smith has been documenting her travels with her pen and trusty Polaroid. In Year of the Monkey, her wanderlust drives her from San Francisco to Santa Cruz to Arizona to Kentucky to New York . . . Along the way, she meets fellow nomads, mourns for loved ones both in the process of dying and those long gone, and she drinks a whole lot of coffee. A keen observer of the world around her, Smith is equally adept at documenting her inner terrain. Wherever she wanders, it's always worth the trip."
—Emily Rems, Bust

"This is the modern-day Patti Smith: older, wiser, seeing the world, and reporting it all back to us in only the way she can. You can't read this and not feel inspired after you put it down." 
—Inside Hook

"From meditations on poetry, politics, art, and dreams, to her own lyrical way of interacting with the world, Year of the Monkey confirms Patti Smith cannot be boxed in by either genre or medium. The book also includes Smith's Polaroids from her travels—yes, she is somehow a talented photographer on top of everything else."
—Jeva Lange, The Week
 
"Lyrical: a book [that] defies all familiar categories, playfully exploring the seam between reality and fantasy. It's full of mysterious characters who emerge from somewhere out of the American landscape. [After] a New Year's Day opening—Smith lost and alone in a part of Santa Cruz usually clogged with tourists--we follow her to Venice Beach, Arizona, Kentucky, Seattle, and New York. The beating heart of the book comes with Smith's visits to Sam Shepard at his Kentucky horse ranch....A rich, kaleidoscopic narrative of surprises and insights." 
—Wallace Baine, Good Times
 
"Smith is always willing to see where a new road might lead. Her career has been a study of language, with interest in melodic refrains, surreal images, and reverent tones. Year of the Monkey is absolutely true in eternal truths, ornamented by a sense of poetry . . . A stunning, soothing work." 
—Megan Volpert, PopMatters 

"Over the course of a year leading up to her 70th birthday, rock legend Patti Smith stood witness to the fragility of life. There's an explicit dreamlike quality and focus to The Year of the Monkey, which offers a very specific glimpse into the life of an artist facing her mortality without coasting. Through her trips, cups of coffee, and dreams, Smith radiates compassionate and concern as she meditates upon the practice of sitting with loss and change during ever-turbulent times." 
—Lauren LeBlanc, Observer

"A melancholy mood and poetic language distinguish Smith's third memoir, set during the Chinese year of the monkey, the year when she moves from age 69 to 70. She begins on New Year's Day, 2016, the morning after finishing a three-night run at the Fillmore in San Francisco and sitting at the deathbed of a long-time friendwho introduced her to City Lights, Caffe Trieste and the Grateful Dead. She chronicles cafés, hitchhiking trips, strange motels in Santa Cruz and vivid dreams. With great tenderness, she describes visiting Sam Shepard in the final months of his life and helping him get his last book completed."
—Jane Ciabattari, BBC
 
"Magical, rich—the unique artistry of Smith's prose remains." 
—Fiona Sturges, The Guardian (UK)
 
"Extraordinary." —Bryan Appleyard, The Times (UK)

"It was a year of disruption, wandering, dreams and surreal visions: this year of the monkey on the Chinese zodiac was also the year Smith turned 70, and a trickster election hurled the country into a dark looking-glass realm. Smith writes with fresh lucidity, wit, bittersweet wonder, and stoic sorrow, shifting in tone from lyrical to hallucinatory to hard-boiled as she describes her meditative and investigative meanderings along the Pacific coast and in the desert. Keenly sensitive to atmosphere, she finds herself 'in the middle of the unexplained' as she travels with cosmic spontaneity and 'an almost religious simplicity' . . . She remembers her life-saving childhood library and a cherished, then dying friend. Smith also chronicles with exquisite poignancy her last visits with her soul mate Sam Shepherd . . . Elegiac, vital, and magical."
—Donna Seaman, Booklist  [starred review]

"Luminous . . . Smith wanders between waking and dreaming in a year filled with the death of a close friend and the political turmoil of the 2016 election . . . In light of her 70th birthday, she writes lyrically on various subjects: she describes Allen Ginsberg's poetry, which she carries along her travels­, as an 'expansive hydrogen bomb;' caught up in Belinda Carlisle's infectious beat, she imagines a 'nonviolent hubris spreading across the land.' She discovers that her most meaningful insights come from her vivid dreams, and she feels a palpable melancholia over having to wake up from them. Smith casts a mesmerizing spell with exquisite prose."
—Publishers Weekly [starred review]
 
"Intriguing—a memoir that evolves around the transformations both in Smith's life and the American political landscape. Disturbing yet humorous, with the boundary between fiction and nonfiction blurred, Smith's work is unlikely to disappoint."
—Jianan Qian, The Millions

"Captivating . . . a chronicle of a year filled with deep losses and rich epiphanies. The titular year, 2016, set Smith, [who] refers to herself as the 'poet detective,' on a quixotic quest, with a mysterious companion unexpectedly reappearing amid a backdrop of rock touring, vagabond traveling, and a poisonous political landscape. Throughout, Smith ponders time and mortality—no surprise considering her milestone birthday, and the experience of losing friends who have meant so much to her. She stresses the importance of memory, and the timeless nature of a person's spirit . . . Redemptive." 
—Kirkus [starred review]