The Essential Scalia: On the Constitution, the Courts, and the Rule of Law (Hardcover)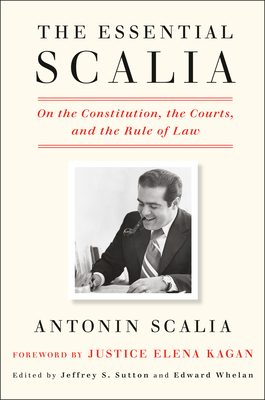 $35.00

Usually Ships in 1-5 Days
Description
---
Supreme Court Justice Antonin Scalia in his own words: the definitive collection of his opinions, speeches, and articles on the most essential and vexing legal questions, with an intimate foreword by Justice Elena Kagan

"[Scalia's writings] are as readable today as they were when they first appeared. . . . Especially illuminating to anyone who wants to unlock the mystery of why Ginsburg admired Scalia—or who wants to get a sense of where the Supreme Court may be headed."—The Wall Street Journal

A justice on the United States Supreme Court for three decades, Antonin Scalia transformed the way that judges, lawyers, and citizens think about the law. The Essential Scalia presents Justice Scalia on his own terms, allowing readers to understand the reasoning and insights that made him one of the most consequential jurists in American history.

Known for his forceful intellect and remarkable wit, Scalia mastered the art of writing in a way that both educated and entertained. This comprehensive collection draws from the best of Scalia's opinions, essays, speeches, and testimony to paint a complete and nuanced portrait of his jurisprudence. This compendium addresses the hot-button issues of the times, from abortion and the right to bear arms to marriage, free speech, religious liberty, and so much more. It also presents the justice's wise insights on perennial debates over the structure of government created by our Constitution and the proper methods for interpreting our laws.

Brilliant and passionately argued, The Essential Scalia is an indispensable resource for anyone who wants to understand our Constitution, the American legal system, and one of our nation's most influential and highly regarded jurists and thinkers.
About the Author
---
Antonin Scalia served as an associate justice of the Supreme Court of the United States from 1986 until his death in 2016. Antonin Scalia was married to Maureen for fifty-five years. Together they had nine children and dozens of grandchildren.

Jeffrey S. Sutton, a judge on the United States Court of Appeals for the Sixth Circuit, is a former law clerk to Justice Scalia. He is the author of 51 Imperfect Solutions: States and the Making of American Constitutional Law.

Edward Whelan, president of the Ethics and Public Policy Center, is a former law clerk to Justice Scalia. He co-edited two other collections of Justice Scalia's work, Scalia Speaks: Reflections on Law, Faith, and Life Well Lived and On Faith: Lessons from an American Believer.
Praise For…
---
"If you know a student who has recently started or returned to law school, you might want to give that aspiring lawyer a short volume of supplemental . . . reading about our Constitution and legal tradition. . . . You can do your part by sharing with them this latest and perhaps most subversive collection."—National Review

"The editors of The Essential Scalia have skillfully collected and excerpted Scalia's judicial writings and a few speeches and articles, and the results are as readable today as they were when they first appeared. That is no mean feat. . . . What makes so many of his opinions worth reading and rereading is not what they say about a particular statute or constitutional dispute but what they say about statutory construction or constitutional interpretation in general. . . . The book will be especially illuminating to anyone who wants to unlock the mystery of why [Justice Ruth Bader] Ginsburg admired Scalia—or who wants to get a sense of where the Supreme Court may be headed."—The Wall Street Journal

"It would be difficult to name other Supreme Court justices who have had such a galvanizing effect on American politics—and who continued to play such important roles after their deaths. . . . What comes across most . . . is the quality of Scalia's writing. It is clear, direct, witty, lapidary, memorable. Scalia's opinions and dissents are famous for certain lines—'this wolf comes as a wolf'; 'What Is Golf?'—but on second reading it is the way he develops his argument that most impresses. And he always makes a perfect landing. . . . These aren't judicial decisions. They are essays. And like great literature they will reverberate far into the future."—The Washington Free Beacon