An Invisible Thread: The True Story of an 11-Year-Old Panhandler, a Busy Sales Executive, and an Unlikely Meeting with Destiny (Paperback)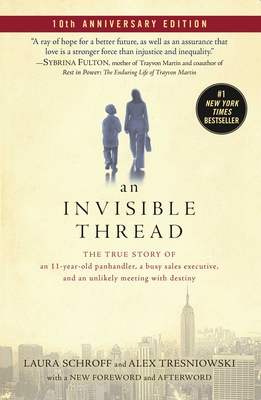 $18.00

Usually Ships in 1-5 Days
Description
---
This 10th anniversary edition of the beloved #1 New York Times bestseller includes a new introduction and afterword by the author. Chronicling the lifelong friendship between a busy sales executive and a disadvantaged young boy that began with one small gesture of kindness, this is a "ray of hope for a better future, as well as an assurance that love is a stronger force than injustice and inequality" (Sybrina Fulton, mother of Travyon Martin and coauthor of Rest in Power: The Enduring Life of Trayvon Martin).

Stopping was never part of the plan...

She was a successful ad sales rep in Manhattan. He was a homeless, eleven-year-old panhandler on the street. He asked for spare change; she kept walking. But then something stopped her in her tracks, and she went back. And she continued to go back, again and again. They met up nearly every week for years and built an unexpected, life-changing friendship that has today spanned almost three decades.

Whatever made me notice him on that street corner so many years ago is clearly something that cannot be extinguished, no matter how relentless the forces aligned against it. Some may call it spirit. Some may call it heart. It drew me to him, as if we were bound by some invisible, unbreakable thread. And whatever it is, it binds us still.​

Now with new material that brings the life-changing story up to date for its tenth anniversary, An Invisible Thread is "a book capable of restoring our faith in each other and in the very idea that maybe everything is going to be okay after all" (Catherine Ryan Hyde, author of Pay It Forward).
About the Author
---
Laura Schroff is a former advertising sales executive who worked for over thirty years with several major media companies and publications, including Time Inc. and People. Her book, An Invisible Thread, became an instant New York Times bestselling book and later was a #1 New York Times and international bestseller. As a keynote speaker at over 300 events for schools, charity organizations, libraries, and bookstores, Laura encourages her audience to look for their own invisible thread connections and highlights the importance of opening up their eyes and hearts to the opportunities where they can make a difference in the lives of others. She lives in Westchester, New York, with her feisty poodle, Emma.

Alex Tresniowski is a writer and bestselling author who lives and works in New York. He was a writer for both Time and People magazines, handling mostly human-interest stories. He is the author or coauthor of more than twenty books. For more about this story and the author, please visit AlexTres.com.
Praise For…
---
"I thought I knew what An Invisible Thread was going to be. I thought it would be a simple and hopeful story about a woman who saved a boy. I was wrong. It's a complex and unswervingly honest story about a woman and a boy who saved each other. By its raw honesty and lack of excess sentimentality, it is even more inspirational. This is a book capable of restoring our faith in each other and in the very idea that maybe everything is going to be okay after all."
— Catherine Ryan Hyde, author of Pay It Forward and Jumpstart the World

"An Invisible Thread—a remarkable story, told so beautifully and honestly—shows us what's possible when we are not afraid to connect with another human being and tap into our compassion. It is a story about the power each of us has to elevate someone else's life and how our own life is enriched in the process. This special book reminds us that damaging cycles can be broken and not to neglect the humanity of the strangers we brush up against every day."
— Chris Gardner, bestselling author of The Pursuit of Happyness and Start Where You Are

"A straightforward tale of kindness and paying it forward in 1980s New York . . . For readers seeking an uplifting reminder that small gestures matter."
— Kirkus Reviews

"According to an old Chinese proverb, there's an invisible thread that connects two people who are destined to meet and influence each other's lives. . . . As Schroff relates Maurice's story, she tells of her own father's alcoholism and abuse, and readers see how desperately these two need each other in this feel-good story about the far-reaching benefits of kindness."
— Publishers Weekly

"An Invisible Thread is like The Blind Side, but instead of football, it's food. These are two people who were brought together by one simple meal, and it literally changed the course of both of their lives. This is a must-read . . . you can read it in a day because it's impossible to put down. If you read it and find it as moving as I did, pay it forward: buy a copy and give it to a friend."
— Rachael Ray, host of The Rachael Ray Show

"This book is a game-changer . . . each chapter touches your heart. An Invisible Thread is a gift to us all. America needs this book now more than ever."
— "Coach" Ron Tunick, national radio show host, "The Business of Life"

"An incredible story . . . I would encourage everyone to pick up this book."
— Clayton Morris, host, Fox & Friends

"If you have a beating heart—or if you fear you're suffering a hardening of the emotional arteries—you really ought to commit to this book at the earliest possible opportunity . . . read this book. And pass it on. And encourage the next reader to do the same."
— Jesse Kornbluth