Amazon Echo: Amazon Echo 2nd Generation User Guide 2017 Updated: Step-By-Step Instructions To Enrich Your Smart Life (alexa, dot, e (Paperback)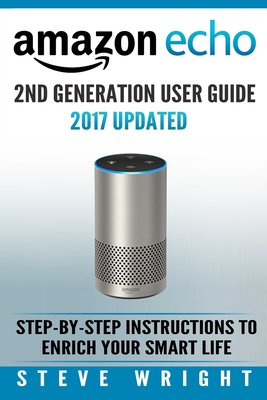 $19.99

Usually Ships in 1-5 Days
Other Books in Series
This is book number 3 in the Alexa series.
Description
---
Don't Spend HOURS trying to figure out AMAZON ECHO
Go from Beginner to EXPERT in 60 minutes.

Do you want to Buy the all-new Amazon Echo and curious to understand how this device will add more convenience to your Life ?

Have you ordered the Amazon Echo 2nd Generation already and now wondering how to convert this cute little Cylinder into your personal assistant?

Maybe you have read a few Amazon Echo guide books but all you got was stale information wrapped in fluffy jargon loaded words?
***Read this book for FREE on Kindle Unlimited - Download Now ***
How will this Book help you?
This book will take you from beginner to an Amazon Echo EXPERT in less that 60 MINUTES.

You will setup your new Echo 2nd Generation and start using all your Smart Devices and Applications EFFORTLESSLY.

You will learn all the latest ADVANCED HACKS known to Expert Amazon Echo Users only.

And most of all, you will SAVE HOURS running errands and you will control your home and work life from a simple voice command "Alexa, .........."
How is this Book Different?
This book is a detailed in DEPTH guide to maximise your ALEXA experience. It has ACTIONABLE tips, tricks and hacks. It contains specific step-by-step instructions that are well organised and easy to read. After reading this book you will
Make Calls, Stream Music and Read Books on Amazon Echo

Control your Home Appliances using Amazon Echo

Setup IFTTT recipes for Advanced Hacks

Use Alexa Skills to AUTOMATE your errands

Connect your Google Calendar and Pandora Account to Alexa
Make Amazon ECHO your Smart Personal Assistant
SHOP on Amazon for DIGITAL and PHYSICAL products

WAKE up to your favourite cup of COFFEE

PROGRAM Echo Dot to control your Thermostat, Lights and DOOR LOCKS

Get the latest CUSTOMISED Weather, Traffic and News Updates

Make and Receive CALLS or Send and Read MESSAGES on Echo

UPDATE your CALENDAR, TODO and SHOPPING list

Get ALEXA to tell you a JOKE

GET the latest SCORES from your FAVOURITE TEAMS

Use 500+ PRE-TESTED COMMANDS and Easter Eggs.
Don't hesitate, pick up your copy NOW by clicking the BUY NOW button at the top of this page
***Read this book for FREE on Kindle Unlimited - Download Now ***
A Personal Note From the Author
Thanks for visiting my book page. I am a hardware enthusiast and love to play with devices. In fact, figuring out all kinds of mechanical and electronic devices and understanding how they work has been a lifelong passion for me. I first started using Amazon Echo in 2014 came across and love the freedom it gives me. I have done a lot of research on Amazon Echo and other Alexa Enabled devices.
This 2nd Generation User Guide for the Amazon Echo is the 3rd in the series of books I have written on Alexa Devices. I hope that this guide helps you in setting up and using your all-new Amazon Echo 2nd Generation quickly and effectively.