Enneagram: #1 Made Easy Guide to the 9 Type of Personalities. Grow Your Self-Awareness, Evolve Your Personality, and build Health (Paperback)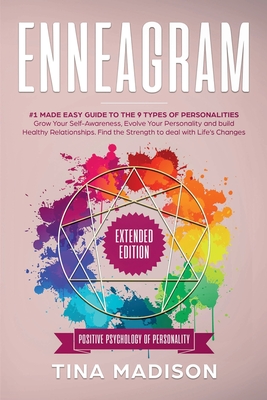 $19.95

Usually Ships in 1-5 Days
Description
---
Have you ever wished you had a guidebook that would help you understand people in your life? Or get caught up wondering what makes your colleagues, partner or child tick? Or simply yearn to understand what they are really feeling? Do you need a gateway to becoming more self-aware?
Then stop wasting your time aimlessly searching for solutions for you're in luck There is such a thing called the Enneagram which tackles all this

The Enneagram is a powerful ancient tool used to help individuals recognize their personality types and thus understand better their actions, thoughts, and feelings more intimately.
In essence, this concept describes the structure and dynamics of nine personality types, that branch out into paths to a more integrated and rewarding life as it presents other ways of how one may perceive and behave in the world. This doesn't by definition, put us in a box, but helps us see the box from which another point of view, outside our limited perspective and undoubtedly, each type of personality has its own strength.

Challenges can arise when this so-called strength is overused which causes our weaknesses to surface, and our point of views becomes rigid which results with us getting caught up in automatic habits. By learning about these inner workings of your type and of course that of others, or recognizing, adjusting and compensating for these unconscious patterns, we can live more satisfying lives, enjoy healthier relationships, and connect to our true core.
Through this understanding, you are able to experience your life through an authentic expression of self in a way that honors your highest good and the highest good of those around you.
Tina Madison, a well known psychologist and researcher, has been using this powerful tool during her entire career to help many people transform the quality of their work, family, and intimate relationship - and to deepen their understanding of themselves.
In Enneagram: #1 Made Easy Guide to the 9 Type of Personalities the author will guide you step-by-step in a wise and deep explanation, showing you all the different facets and possible interpretation of these concepts in your life more practically.
Briefly through the pages of this book you will:
What really the Enneagram is, and how you should approach it
Identify your personality type with the Enneagram test.
Develop a deep sense of self-awareness through a crystalline identification of your personality traits
Highlights opportunities for further growth and gives you a strong idea on what needs to happen in order for you to experience a better side of you
A wise explanation and interpretation of the Enneagram's 9 working personalities
And much more...
No two people were made to be the same, and therefore no two approaches should be the same either. Through this secret and proven guide you will learn what identifies you as a unique individual, and how you can use this information to highlight your individuality and experience your best life possible as a result.
So, CLICK ON BUY NOW and start from today on your personal journey of self-discovery and development