Why Wakanda Matters: What Black Panther Reveals About Psychology, Identity, and Communication (Paperback)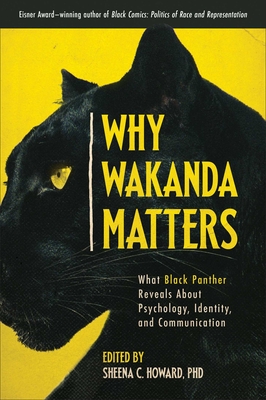 $14.95

Usually Ships in 1-5 Days
Description
---
In 2018, the Marvel Cinematic Universe finally delivered on something fans had long been waiting for: a feature film with a solo Black superhero.

Black Panther introduced viewers to the stunning world of Wakanda, a fictional African country with incredible technological advancements, and to T'Challa, a young man stepping into his role as king and taking up the mantle of the Black Panther title from his late father.

The unforgettable story, coupled with the film's mega-success, has undoubtedly shaped the future of superhero cinema, in addition to genuinely changing viewers' lives. Why Wakanda Matters gives this iconic film the in-depth analysis it deserves under the lens of the latest psychological concepts-as well as delving into the lasting cultural impact of this unforgettable story.

Edited by Sheena C. Howard, an award-winning author, filmmaker, and scholar, Why Wakanda Matters: What Black Panther Reveals About Psychology, Identity, and Communication features a collection of essays from leading experts in a variety of fields who offer insightful perspectives on topics such as:

   • Cognitive dissonance: The important messages within T'Challa's nuanced identity and eventual shift from nationalism to globalism.
   • Intergenerational trauma and resistance: How N'Jadaka (aka Erik/Killmonger) identifies with the trauma that his ancestors have suffered.
   • Social identity: How Nakia, Shuri, Okoye, and Ramonda—all empowered, intelligent, and assertive women of color—can make a lasting impression on women and girls.
   • Collective identity: How Black Panther has created a shared fantasy for Black audience members—and why this is groundbreaking.
   • Cultural and racial identity: What we can learn from Black Panther's portrayal of a culture virtually untouched by white supremacy.

Fans of the movie and those interested in deeper discussions about the film will revel in this thought-provoking examination of all aspects of Black Panther and the power of psychology.
About the Author
---
Sheena C. Howard, is associate professor of communication. She is an award-winning author, filmmaker, and scholar. In 2014, Sheena became the first Black woman to win an Eisner Award for her first book, Black Comics: Politics of Race and Representation. She is also the author of several critically acclaimed books and comics books on a range of topics. Sheena is a writer and image activist, with a passion for telling stories, through various mediums, that encourage audiences to consider narratives that are different than their own. In 2014, Sheena published Black Queer Identity Matrix and Critical Articulations of Race, Gender and Sexual Orientation. Sheena is the author/editor of the award-winning book Encyclopedia of Black Comics and the cowriter of the comic book Superb, about a teenage superhero with Down syndrome. In 2016, through her company Nerdworks, LLC, Sheena directed, produced, and wrote the documentary Remixing Colorblind, which explores the ways the educational system shapes our perception of race and "others."
Praise For…
---
"The essays, a well-balanced combination of contemporary thought and historical analysis, will leave readers eager for another viewing."

—Publishers Weekly

"It is refreshing to see inclusion of Afrikana worldview, Fanonian theory, decolonization, and African spiritual identity in the analyses of the popular media phenomenon that is Black Panther. This work further exposes readers to tenets of Black psychology that are unrepresented in Western psychology." 

—Michele K. Lewis, psychology professor, member of the Association of Black Psychologists, and author of Our Biosocial Brains: Cultural Neuroscience of Bias, Power, and Injustice 

"Why Wakanda Matters is a tour de force centered on identity, perception, and racial trauma. The essayists give readers a new way of looking at the classic film Black Panther, as well as capitalism, US history, and nationalism. Why Wakanda Matters isn't one of those books that you read once and toss to the side. It is an inspirational book that one should carefully read at least once a year. This opus will live for generations to come." 

—Darryl Robertson, former staff writer for VIBE magazine, whose work has also appeared in Ebony, XXL, Billboard, Salon, Black Perspectives, and Washington Post

"Why Wakanda Matters situates the meaningful, mythical, and the phantasmagorical aspects of Wakanda within the promise of a more just and representational reality. Taken together, the chapters tell us why #WakandaForever is more than a hashtag; it's a movement for and among fans, activists, scholars, and dreamers." 

—Deborah Elizabeth Whaley, professor of American Studies and African American Studies at the University of Iowa and author of Black Women in Sequence: Reinking Comics, Graphic Novels, and Anime

"Sheena Howard continues to make extraordinary contributions to comic scholarship. Why Wakanda Matters is another exceptional volume in her impressive catalog."

—Joel Christian Gill, cartoonist and historian 

"Each essay breathes life into the layered discourse around the utility of the Black radical imagination and the inherent and necessary joy regarding Blackness and speculation. Why Wakanda Matters is a great guide to the newest addition to Blackness in conversation with radicalized spatial narratives."

—John Jennings, New York Times bestselling illustrator of the Eisner Award–winning graphic novel adaptation of Kindred by Octavia E. Butler