Story of the World, Text Bundle, Hardcover Revised Edition: History for the Classical Child: Ancient Times through The Modern Age (Hardcover)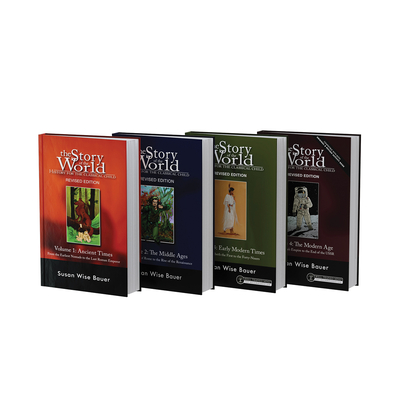 $103.80

Usually Ships in 1-5 Days
Description
---
With over a million copies of the series now in print, The Story of the World has become an enduring favorite of young readers and their parents.
Available in hardcover, this four-volume narrative world history tells the story of the entire globe, from the earliest nomadic humans all the way to the Persian Gulf war at the end of the twentieth century. It now includes the Revised Edition of Volume 4. Told in an entertaining, engaging style, The Story of the World uses the stories of women and men, countries and empires, rebels and rulers, peasants and presidents, to walk young readers through a continuous, chronological account of human events. The reading level of each volume increases slightly in difficulty, growing along with the developing ability of the children following the narrative thread. Volume 1 is a read-aloud for grades 1-2, an independent read for stronger readers in grades 2-5; Volume 2 is pitched towards grades 2-6; Volume 3 (revised in 2020), towards grades 3-6; and Volume 4 (revised in 2021), tackling the difficult topics of modern wars, has a reading level of grades 4-8.
About the Author
---
Susan Wise Bauer is a writer, educator, and historian. Her previous books include the Writing With Ease, Writing With Skill, and Story of the World series from Well-Trained Mind Press, as well as The Well-Trained Mind: A Guide to Classical Education at Home, The Well-Educated Mind: A Guide to the Classical Education You Never Had, Rethinking School, The Story of Western Science: From the Writings of Aristotle to the Big Bang Theory, and the History of the World series, all from W. W. W. Norton. She has a Ph.D. in American Studies from the College of William & Mary in Virginia, as well as an M.A. in seventeenth-century literature and a Master of Divinity in Ancient Near Eastern Languages and Literature. For fifteen years, she taught literature and composition at the College of William and Mary.

Jeff West is an established illustrator and his variety and bulk of work is expansive, ranging from traditional art to art for TV and movies. He recently earned himself an Emmy nomination and has worked on blockbuster shows and films. He resides in Arizona.