Little Foodie: Baby Food Recipes for Babies and Toddlers with Taste (Paperback)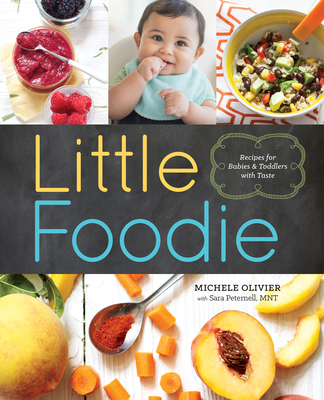 $16.99

Usually Ships in 1-5 Days
Description
---
Winner of Red Tricycle's 2015 Best Cookbook for Babies Award
This playful baby food cookbook helps parents prepare a culinary adventure for the newest eater in the family. Baby food chef and founder of the beloved blog Baby FoodE, Michele Olivier, shows you how to make delicious, healthy food for your baby and toddler—regardless of how much time you have (and how little sleep you're getting). From first purées to toddler finger foods, these dishes have everything your little foodie needs to grow into a grown-up palate.
Roll up your sleeves and start thinking beyond the baby food aisle, with:
Over 100 Baby Food Recipes transitioning your little ones from purées to solids, with indications for age
Helpful FAQ for all stages of infancy and toddlerhood concerning nutrition and eating habits
A How-To Overview covering everything you need to know about making baby food
Baby food recipes include: Apple + Mint + Ricotta Purée / Fennel + Pea + Peach Purée / Pumpkin + Thyme Purée / Sesame Tofu Sticks + Peanut Sauce / Curried Egg Finger Sandwiches + Mango Chutney / Slow Cooker Chicken Tagine + Couscous / Sausage + Kale Over Creamy Polenta / DIY Toddler Sushi Bar, and more.
Consider yourself warned: your child's first words might just be "More, please."
About the Author
---
Michele Olivier is a mother of two and the founder and author of the popular baby food blog Baby FoodE (babyfoode.com). Her recipes have been featured online on BuzzFeed, PopSugar, Red Tricycle, and Daily Parent, among others. She and her family live in Denver, Colorado. For more recipe inspiration and photos, follow her on Instagram @babyfoode and facebook.com/babyfoode.Sara Peternell, MNT, is a nutrition therapist who works with clients primarily for fertility, pregnancy, and postpartum nutrition, as well as in the area of nutrition for young children. She is also an instructor at the Nutrition Therapy Institute. Sara, her husband, and their two children live in Denver, Colorado. To learn more about her practice, visit sarapeternell.com.