Family Business: Innovative On-Site Child Care Since 1983 (Hardcover)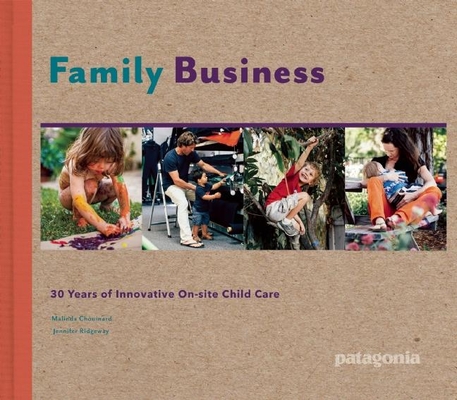 $45.00

Usually Ships in 1-5 Days
Description
---
Our love of wild and beautiful places and our determination to save them began outside. We want the same for our children. This visual guide illustrates why Patagonia's on-site child care center is a key component of our corporate mission and why providing high quality on-site child care to working families is essential. In safe and engaging environments we support unstructured play where our children learn hand-eye coordination, balance and mental agility. Anything that can be done indoors is better learned outdoors where physical strength, creativity and confidence develop. True to Patagonia's climbing roots we encourage risk as the children learn and grow in an atmosphere of trust. This book is the visual story of how one corporation provides the support working families need to preserve American ingenuity that begins in early childhood.

About the Author
---
Anita Furtaw is Patagonia s Director of Family Services. She started with Patagonia in June 1985 as the director of the company s onsite child care program, Great Pacific Child Development Center (GPCDC). Anita has a Bachelor s Degree in Child Development and a Master s Degree in Early Childhood Education. Anita s past accomplishments include an appointment to the Ventura County Commission on Women, president of the Ventura County Association for the Education of Young Children and a founding member of the Ventura County Child Care Planning Council. At Patagonia, Anita s current position includes development, implementation, and evaluation of global work-family programs, and she plays with the children as often as possible. She lives in Thousand Oaks, CA.

Alannah Zurovski is a Primary Infant/Toddler Caregiver at Patagonia s Great Pacific Child Development Center. She specializes in children birth to two years of age and holds a Bachelor of Science Degree in the field of Early Childhood Studies. She lives in Ventura, CA.

Malinda P. Chouinard, with her husband Yvon, is the founder of sportswear manufacturer, Patagonia. She lives in Ventura, CA, and Moose Jaw, WY.

Jennifer Ridgeway is the former Director of Photography at Patagonia, and the author of "Unexpected: 30 Years of Patagonia Catalog Photography." Ridgeway's children were some of the first to enroll in the Great Pacific Child Development Center, and her grandchildren attend the center today. She lives in Ojai, CA.

Rose Marcario is the CEO of Patagonia Works. She lives in Ventura, CA.

"