Prayer After the Slaughter: The Great War: Poems and Stories from World War I (Kurt Tucholsky in Translation) (Paperback)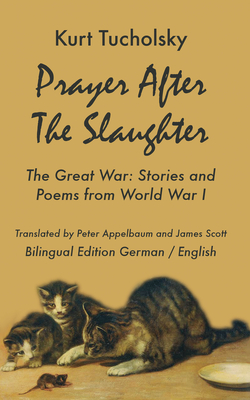 $12.95
Email or call for price.
Description
---
Never before or after have the horrors of the "Great War," as World War I was known, been captured as they were by Kurt Tucholsky. The famed Weimar writer, who would become one of Germany's best-known satirist and journalists, describes surviving in the trenches and fighting a losing battle, the arrogance of the officers and the desperation of the loved ones back home. His writings are similar to those of Heinrich Heine, his role model, in appearing superficially simple, but replete with hidden meanings. They are touching, stirring, and precisely to the point. He makes the war that still looms even into our own 21st century come alive. This is the first bilingual anthology in German and in English of his works on World War I. This edition features an afterword by Noah Isenberg, professor and chair of culture and media at Eugene Lang College—The New School for Liberal Arts, where he teaches film history, criticism, theory, and literature.
About the Author
---
Kurt Tucholsky was a brilliant satirist, poet, storyteller, lyricist, pacifist, and democrat; a fighter, ladies' man, reporter, and early warner against the Nazis who hated and loathed him and drove him out of Germany after his books were burned in 1933. The New York Times hailed him as "one of the most brilliant writers of republican Germany. He was a poet as well as a critic and was so versatile that he used five or six pen names. As Peter Panter, he was an outstanding essayist who at one time wrote topical sketches in the Vossische Zeitung, which ceased to appear under the Nazi regime; as Theobald Tiger, he wrote satirical poems that were frequently interpreted by popular actors in vaudeville and cabartes, and as Ignatz Wrobel, he contributed regularly to the Weltbühne, an independent weekly that was one of the first publications prohibited by the Hitler government." Tucholsky, who occupied the center stage in the tumultuous political and cultural world of 1920s Berlin, still emerges as an astonishingly contemporary figure. Peter Appelbaum is emeritus professor of pathology, Pennsylvania State University. He is the author of Loyalty Betrayed: Jewish Chaplains in the German Army During the First World War. He lives in Hershey, Pennsylvania. James Scott is emeritus professor of German at Lebanon Valley College. His scholarly presentations have ranged from Rilke's prose and Kafka's short fiction to cabaret in East Germany and communicative testing. He lives in Annville, Pennsylvania.