50 Lgbtqi+ Who Changed the World (Paperback)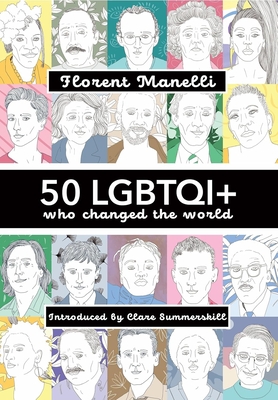 $29.99

Usually Ships in 1-5 Days
Description
---
Marsha P. Johnson, Keith Haring, Harvey Milk, Audre Lorde, Peter Tatchell, RuPaul... the names of pioneers and trailblazers who have advanced the LGBT cause and helped bring about new human rights.
This book pays tribute in 50 portraits to the activists, personalities, writers and artists who have advanced the LGBT movement and celebrates those who have fought and are fighting every day to create a more inclusive and tolerant world.
To coincide with a new touring exhibition of Florent Manelli's artworks.
PROFILES
Bayard Rustin (1912-1987)
Alan Turing (1912 - 1954)
Tom of Finland (1920 - 1991)
Edith Windsor (1929 - 2017)
Harvey Milk (1930 - 1978)
Barbara Gittings (1932 - 2007)
Audre Lorde (1934 - 1992)
Ren e Richards (1934 - present)
Nancy C rdenas (1934 - 1994)
Larry Kramer (1935 - 2020)
Miss Major Griffin-Gracy (1940 - present)
Craig Rodwell (1940 - 1993)
Armistead Maupin (1944 - present)
Marsha P. Johnson (1945 - 1992)
Brenda Howard (1946 - 2005)
Jean Le Bitoux (1948 - 2010)
Pedro Almod var (1949 - present)
Michael Cashman (1950 - present)
Sylvia Rivera (1951 - 2002)
Peter Tatchell (1952 - present)
Judith Butler (1956 - present)
Rosanna Flamer-Caldera (1956 - present)
Martina Navratilova (1956 - present)
Simon Nkoli (1957 - 1998)
Keith Haring (1958 - 1990)
Chi Chia-wei (1958 - present)
Mark Ashton (1960 - 1987)
RuPaul (1960 - present)
Mary Bonauto (1961 - present)
Manvendra Singh Gohil (1965 - present)
Hida Viloria (1968 - present)
Bamby Salcedo (1969 - present)
Phyllis Akua Opoku-Gyimah (1974 - present)
Xulhaz Mannan (1976 - 2016)
Ludovic-Mohamed Zahed (1977 - present)
Nikolai Alekseev (1977 - present)
Yelena Grigoryeva (1979 - 2019)
Xiaogang Wei (1976 - present)
Georges Azzi (1979 - present)
Marielle Franco (1979 - 2018)
Kasha Jacqueline Nabagesera (1980 - present)
David Jay (1982 - present)
Linda Baumann (1982 - present)
Megan Rapinoe (1985 - present)
Elliot Page (1987 - present)
Hanne Gaby Odiele (1988 - present)
Olly Alexander (1990 - present)
Hande Kader (1993 - 2016)
Bouhdid Belhadi (1993 - present)
Aaron Rose Philip (2001 - present)
About the Author
---
Clare Summerskill is a stand-up, a writer, an actress, a singer-songwriter, an oral historian and an academic. Clare is a comedienne, a singer, and a writer and playwright, who creates verbatim theatre productions from interviews with people from marginalised communities. She is also a freelance academic and gained her doctorate from the Theatre Department at Royal Holloway University of London and she is co-founder of the Oral History Society LGBTQ Special Interest Group. Clare has been described by Radio 4 Women's Hour as"A Lesbian Victoria Wood!" and by What's On Magazine as "One of the funniest women in the country". Clare performs an original cocktail of stand-up and comedy songs to mainly LGBTQ audiences up and down the country and also abroad and has even been known to make straight people chuckle just a little bit! She brings Dyke humour to the forefront of alternative comedy! For several years she has appeared on the LGBTQ comedy and cabaret circuit. She was once one half of the lesbian-themed double act ALICE AND CLARE (with Alice Arnold) and she has performed her one-woman shows at The Edinburgh Festival over many years. Clare also performs her stand-up and comedy songs as the entertainment for various AGMS and Conferences. These have included SPECTRUM (Home Office LGBT Staff), The DEPARTMENT OF HEALTH, (LGBT Staff Group), OLDER LESBIAN NETWORK, CSI, ENFIELD HATE CRIME FORUM, KENRIC. As a writer for radio, Clare contributed to the last two series of Weekending on BBC RADIO 4. She also wrote for the BBC RADIO 2 women's comedy sketch show Heated Rollers and she both wrote for and appeared in the first-ever pilot for a Lesbian and Gay sketch show on Radio 4, So What If I Am?