The Unofficial Donald Trump Yearbook 2020 (Hardcover)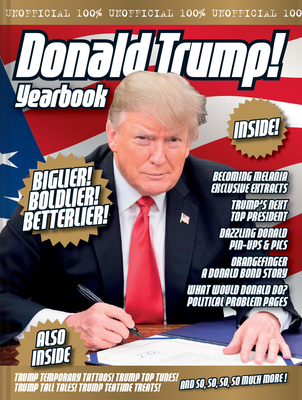 $14.95
Email or call for price.
Description
---
An all-new follow-up to the side-splitting and bestselling Donald Trump! Activity Book, packed with Trump-related games, puzzles, and fun.

"No way," they said, "he won't last 100 days!" But steaming into his final year of office, the POTUS with the moistest has reigned supreme, and now he wants more (pending rubber-stamping of his nomination). The run-in to the 2020
election will be a rollercoaster, and the answer to the question of who will be sitting next to the Donald in the front car as the Democratic candidate will soon be answered.

Bigger! Boldlier! Betterlier! The follow-up to last year's sold-out edition, The Unofficial Donald Trump Yearbook 2020 will feature a side-splitting potpourri of Donald-related fun and Trump-ernalia: Mr Potus Head (of State) game! Dazzling Donald pin-ups and pics! Wall craft game--using your pretend bricks to build a wall to keep out pretend baddies! Trump temporary tattoos! Trump top tunes! Trump tall tales! All this and more will delight and amuse you as you try to stay sane in the face of the daily news.
About the Author
---
Adam G Goodwin and Jonathan Parkyn are a comedy writing team working predominantly in TV, including shows for the BBC, Channel 4 and other major UK and US networks. Together with publisher (and brother of Adam) Dicken Goodwin, they have written a series of popular spoof books, including The Brexshit Book, What the Trump?!, The Unofficial Jeremy Corbyn Annual and The Unofficial Donald Trump Annual 2019.