The Rumor: A Jataka Tale from India (Paperback)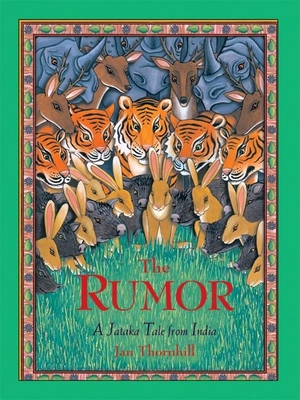 $6.95
Email or call for price.
Description
---
*New paperback edition* The world is breaking up
As the worrywart hare settles down for a quiet nap in her favorite sun-dappled grove of palms and mango trees, she is startled into action by a sudden and very loud explosion. Convinced that the world is breaking up, the hare tears out of the grove, into a thicket, across a marshland, through a forest, out into the scrubland and onto the open plain. Along the way she spreads her alarming news, gathering up an ever-increasing herd of terrified creatures. The stampede continues and the frenzy grows, until one wise voice prevails... Perfect for reading aloud, this traditional story from India is a lovely version of a classic The Sky Is Falling tale. Vibrant illustrations set inside exquisite borders have an effect like gorgeous tapestries on every page. The richness of each illustration adds layers to this deceptively simple fable, and young readers will love to pore over the art to pick up the hidden details in each piece. Nature Notes at the back of the book give additional information on the wildlife, featured in the story and illustrations, as well as the origins of the tale and the style of illustration.

About the Author
---
Jan ThornhillContributor residences (city, state or country if outside the US or Canada): Toronto Jan Thornhill's most recent books include Over in the Meadow and The Wildlife ABC & 123. Her books have won the UNICEF Ezra Jack Keats Award, the UNESCO White Raven Award, and have been shortlisted for the Governor General's Award twice. Jan lives near Toronto.