Mayo Clinic Guide to Better Vision (3rd Edition): Preventing and treating disease to save your eyesight (Paperback)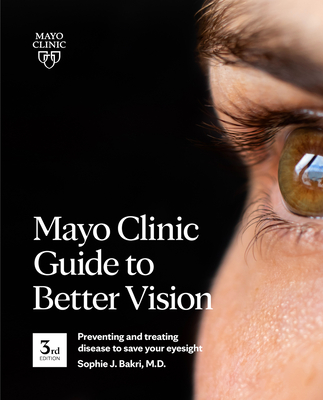 $19.99

Usually Ships in 1-5 Days
Description
---
Having good eyesight is essential for almost every activity we do, but an estimated 93 million adults in the United States are at high risk for serious vision loss. Mayo Clinic Guide to Better Vision is a comprehensive guide to understanding common vision problems, preventing age-related eye disorders, and keeping your eyes healthy at every stage of life.

As we age, our eyes become more susceptible to common conditions like age-related macular degeneration, glaucoma, diabetic retinopathy and cataracts. Even younger adults can suffer from painful eye conditions like dry eyes, infected tear ducts, styes, floaters, pink eye, and eye strain. More than 170 million Americans wear eyeglasses or contact lenses to correct vision problems, and those number is likely to increase. Fortunately, many of these conditions are preventable, treatable, and even reversible.

In Mayo Clinic Guide to Better Vision, Dr. Sophie Bakri, M.D. walks readers through the diagnoses and treatment options associated with these common eye issues, as well as preventive measures for protecting your eyes from eye diseases, retinal disorders, and permanent vision loss. She also shares the best techniques for correcting common vision problems, and provides tools for those currently living with low vision.

Presented through clear, conversational explanations paired with detailed illustrations, photographs, and tables, this book is a practical resource for making the most of your vision by keeping your eyes healthy and your eyesight sharp at any age.
About the Author
---
Dr. Sophie Bakri, M.D. is a consultant in the Department of Ophthalmology at Mayo Clinic in Rochester, Minnesota, where she specializes in treating age-related macular degeneration, diabetic retinopathy and complex retinal detachments. As a professor of ophthalmology at Mayo Clinic College of Medicine. Dr. Bakri leads students in both clinical and translational research aimed at understanding and mitigating drug side effects for patients living with retinal disease. She has authored many peer-reviewed papers and book chapters and has received an Achievement Award from the American Academy of Ophthalmology and an Honor Award from the American Society of Retina Specialists. Dr. Bakri is listed as one of Becker's 135 leading ophthalmologists in the United States and was named one of The Ophthalmologist's Top 50 Rising Stars.