Italian Short Stories for Beginners: An Easy Language Learning with Phrases, Short Stories to Imporve Your Vocabulary and Grammar In a Fun Way (Paperback)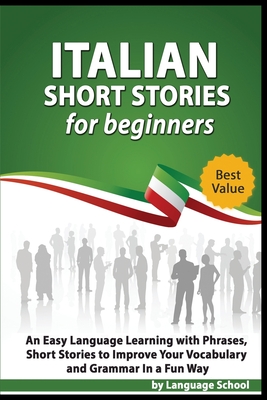 $18.99
Email or call for price.
Description
---
If you have ever wanted to better your grammar and vocabulary in Italian, then this is the book for you.
By going through 6 Italian stories revolving around common, everyday activities, you will expand your vocabulary with words you will use often, along with learning more in-depth grammar by familiarizing yourself with these stories.
Each story tackles a fairly mundane task - grocery shopping or visiting a dog park for example - and in using these settings, this book will allow you the opportunity to see these words in action, thus making it easier for you to incorporate the new words into not only your vocabulary but seamlessly into the conversation.
If you have ever wanted a simple way to expand your Italian knowledge, these short stories will allow you to do that at your own speed. Each story is roughly 2,500 words, short enough to read over a few times before checking your work against the English translations at the end of each chapter.
How you work through this book, how long you spend on each chapter, and when you choose to look at the English translations, ultimately, is entirely up to your preference. Everyone learns differently, and whichever way best benefits, you are always the one to go with, though this book does offer helpful hints for where to start.
Things you will learn in this book:
How to decipher unknown words in a sentence by using context clues (words that you do know the meanings of)
How to use the English translations as a helpful tool and not a crutch that you rely on explicitly to help you translate the German/French/Spanish/Italian stories.
Vocabulary relating to common events such as:
Trips to the mall
Going grocery shopping
Getting one's hair done
Preparing and heading to work
Going to a dog park
Attending a dinner party
How to use this book to best aid you in your vocabulary and grammar knowledge gains
Even if you are a beginner in the Italian language, these simple stories can work for you. There are not many difficult words that cannot be figured out with context clues, and if you find yourself struggling, you can always flip to the end of the chapter for the English translation to assist you.
As with everything new that one learns, practice makes perfect. You must be ready to put in the work it takes to make the most of this book and most of your time spent studying from this book.
If the things mentioned here interest you or you feel that it could be beneficial for you, then do not keep waiting. The sooner you jump in, the sooner you will see results.
Would you like to know more? Download now to learn the Italian language. Scroll to the top and click the Buy Now button.