Pride and Prejudice (Hardcover)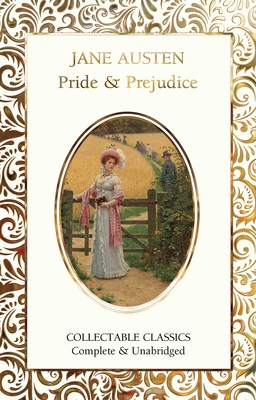 $12.99
Usually Ships in 1-5 Days
Staff Reviews
---
Pride and Prejudice by Jane Austen is a perennial classic and one of the most well-loved books of the past centuries - for good reason. It speaks to both general readers and critics, for what may seem to be simply a nineteenth-century rom-com is, in truth, a sparkling commentary on English society, the dependency of women, and the variable significance of money and love. Austen's wit is incomparable, her accusations just, and her love stories touching.
— Kate
Description
---
The FLAME TREE COLLECTABLE CLASSICS are chosen to create a delightful and timeless home library. Each stunning edition features deluxe cover treatments, ribbon markers, luxury endpapers and gilded edges. The unabridged text is accompanied by a Glossary of Victorian and Literary terms produced for the modern reader. One of the finest examples of literature, written by an author at the height her powers, Pride and Prejudice is sharply observed, witty and acute. It is studied and enjoyed in still increasing numbers throughout the world today. Elizabeth Bennet and her four sisters are unmarried, much to their parents' great anxiety. In a rollercoaster of social etiquette, wilful misunderstanding and romantic intrigue Mr Charles Bingley and his friend Mr Darcy vie with Mr Collins and Mr Wickham for the attentions of the Bennet daughters. Rejection, scandal and distress eventually lead to marriage and true love in a series of classic happy endings resolving the conflicts between pride and prejudice in the sisters and their beaus.
About the Author
---
In the history of literature, few female authors have attained the enduring popularity of Jane Austen (1775-1817). Her exquisite, finely tuned novels have captivated readers for two hundred years, and her reputation shows no signs of diminishing, fuelled by high-profile TV and film adaptations of her writing. The substance of her work, and the source of her appeal, is quintessentially English. She takes the reader into the subtle cultural, linguistic and romantic codes of nineteenth-century English society, and in doing so creates some of literature's favourite heroes and heroines. Judith John (Glossary) is a writer and editor specializing in literature and history. She has worked as an editor on major educational projects, including English A: Literature for the Pearson International Baccalaureate series. Judith's major research interests include Romantic and Gothic literature, and Renaissance drama.