The Flying Classroom (Paperback)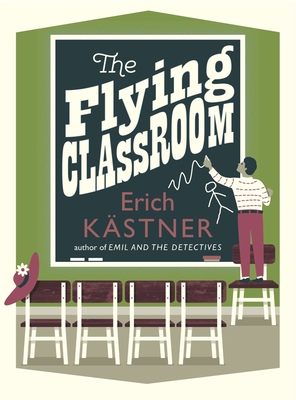 Description
---
Martin's school is no ordinary school. There are snowball fights, kidnappings, cakes, a parachute jump, a mysterious man called 'No-Smoking' who lives in a railway carriage and a play about a flying classroom.
As the Christmas holidays draw near, Martin and his friends - nervous Uli, cynical Sebastian, Johnny, who was rescued by a sea captain, and Matthias, who is always hungry (particularly after a meal) - are preparing for the end of term festivities. But there are surprises, sadness and trouble on the way - and a secret that changes everything.  
The Flying Classroom is a magical, thrilling and bittersweet story about friendship, fun and being brave when you are at your most scared. (It also features a calf called Eduard, but you will have to read it to find out why).
About the Author
---

Erich Kästner, writer, poet and journalist, was born in Dresden in 1899. His first children's book, Emil and the Detectives, was published in 1929 and has since sold millions of copies around the world and been translated into around 60 languages. After the Nazis took power in Germany, Kästner's books were burnt and he was excluded from the writers' guild. He won many awards, including the prestigious Hans Christian Andersen Award in 1960. He died in 1974.
Translated from the German by Anthea Bell.
Praise For…
---
"a memorable exploration of bravery, boyhood and friendships that last, albeit in a world that would soon vanish." — The Wall Street Journal

"Originally published in 1935 and charmingly illustrated by Trier, Kästner's (Emil and the Detectives) pleasingly sentimental tale of early 20th-century boarding-school life gets the opportunity to reach a new audience, courtesy of Bell's new translation." --Publishers Weekly
'A little masterpiece... Read it and you will be happy'  Maurice Sendak
'Marvellous' Philip Pullman
'My favourite book as a child... funny, exciting and very atmospheric'  Michael Rosen
Praise for Emil and the Detectives:

'Walter Trier's deceptively innocent drawings are as classic as Kästner's words; I never tire of them'  Quentin Blake