Corporate Counsel: Expert Advice on Becoming a Successful In-House Lawyer (Paperback)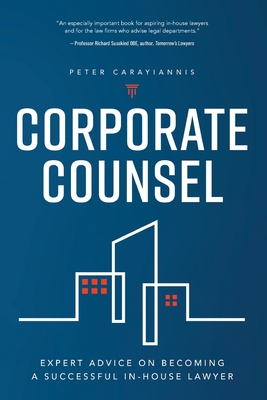 $17.59

Usually Ships in 1-5 Days
Description
---
It used to be that the path to a successful career as a corporate lawyer was found in private practice. In recent years this has changed dramatically with corporate lawyers building satisfying, engaging, and rewarding careers as in-house counsel.
With the right career transition, you can rediscover your passion for business law and build the fulfilling career you deserve.
Start your journey from private practice into a successful position as an in-house lawyer. With crisp, original insight, Corporate Counsel is your guide to becoming a successful in-house lawyer.
In this business fable, you will find:
A step-by-step plan to transition to a career as in-house counsel.
What unique skills you will need to succeed in the role of in-house counsel.
How to effectively work with business leaders at your company.
What to expect in the first 100 days of your new position.
An engaging, easy-to-understand story-no legalese
You can have it all. Read Corporate Counsel and take your first step toward a rewarding career as in-house legal counsel