Baby Out of Wedlock: Co-Parenting Basics From Pregnancy to Custody (Paperback)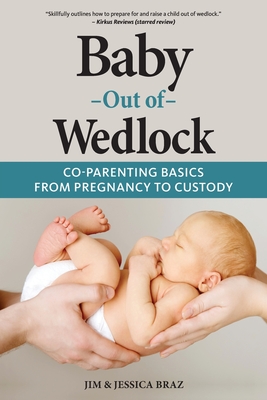 $19.99

Usually Ships in 1-5 Days
Description
---
"Skillfully outlines how to prepare for and raise a child out of wedlock."
-Kirkus Reviews (starred review)
Winner of SIX Literary Awards (see below for details).
Baby Out Of Wedlock is the first and only guidebook written specifically to help the millions of unmarried parents who find themselves involved with an unexpected pregnancy.
This award winning book answers all the basic questions regarding paternity tests, co-parenting relationships, child custody laws, visitation rights, support payments, and much more. The result is a better relationship with your co-parent and lower attorney fees.
Each author has a child born out of wedlock from their previous relationships. They both stumbled through terrible custody battles, making many rookie mistakes that led to important lessons learned. The information offered here could quite literally save you thousands of dollars, especially if you and your co-parent both read it. You will need an attorney to get through this no matter what, but once both parents understand what is reasonable, there should be no need for a costly, drawn-out custody battle.
By reading this book, you'll learn how to write an effective Parenting Plan and how to enforce it without repeated trips back to court. Since the authors have experience in both the mother's and father's perspectives on these issues, you will get balanced, gender-neutral advice on protecting your parental rights while learning how to get along with your co-parent for the long-term.
In addition to a Kirkus Starred Review (https: //bit.ly/KirkusStarBoow) and the other favorable editorial reviews shown below, Baby Out of Wedlock has won four literary awards:
1. Chanticleer Book Awards, Winner 2021 1st Place Non-Fiction, Instruction & Insight Category https: //bit.ly/BOOW_CIBA
2. Readers' Favorite, 2021 Gold Award Non-Fiction, Parenting, https: //bit.ly/RFGoldAward
3. CIPA EVVY 2021 Awards, Winner 1st place Non-Fiction, Parenting & Family https: //bit.ly/CIPAAward
4. NYC 2021 Big Book Awards, Distinguished Favorite, 2021 Parenting & Family
https: //bit.ly/BOOWBigBook
5. Literary Titan April 2021, Gold Book Award
The description of the Gold Book Award can be seen here: https: //literarytitan.com/bookawards/
The list of all previous award winners is shown here. Baby Out of Wedlock is about 24 up from the bottom of the Gold list (as of June 2021). https: //literarytitan.com/bookawardwinners/
6. She's Single Magazine - 2021 Best Relationship Book Award https: //bit.ly/ShesSingleAward