My Sleepover at Grandma's House (My Grandma's House) (Paperback)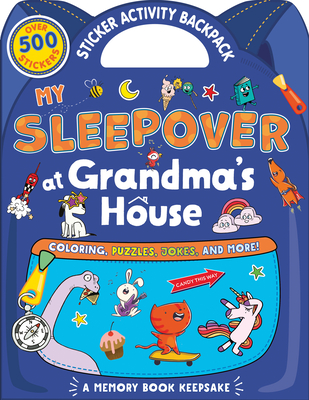 Description
---
Get ready for a fun-packed sleepover at Grandma's house in this special activity book for kids!
There's nothing better than time spent with the best grandma in the world! Filled with fun puzzles, coloring, drawing, jokes, brain teasers, and more, this keepsake workbook is the perfect grandma-and-me activity with lots of laughs and shares all the joys of grandma's house. Cute illustrations and engaging activities celebrate and capture the special bond between Grandma and grandchild—the best way to make memories to last a lifetime! For toddlers and kids ages 3-8, this awesome activity and coloring book makes for a perfect gift from grandma to grandchild, or from grandchild to grandma!
PLUS, this book includes a FREE downloadable coloring page that can be personalized with YOUR CHILD's name to create an oh-so-special keepsake for Grandma and grandchild.
What's inside:
A personalized sleepover invitation page
15 silly, sweet, and fun activities for grandma and grandchild to complete together
Keepsake pages for Grandma and grandchild to journal, sharing stories and creating meaningful memories
Snag this gift for Grandma OR grandchild for Mother's Day, Christmas stocking stuffers, Easter baskets, Valentine's Day, birthdays, or any other time that calls for a little celebration!
About the Author
---
Hazel Quintanilla lives in Guatemala and likes working as a freelance illustrator, since it makes her dress code as fancy as a dinner requires. She's been drawing since she was a little girl and has a Major Degree in illustration. Animals and wildlife have always been her number one inspiration. She's had the privilege to illustrate lots of children's books, magazines and games, allowing her to grow as an artist and discover new styles and challenges.

Luke Séguin-Magee studied fine art in Canada and multimedia design in Denmark, and spent 20 years designing graphics and animations for a wide range of clients. He now enjoys creating characters and stories for picture books, comics, and single illustrations, as well as entertaining his kids by drawing doodles and acting like a goofball.