Tales of Ancient Worlds: Adventures in Archaeology (Hardcover)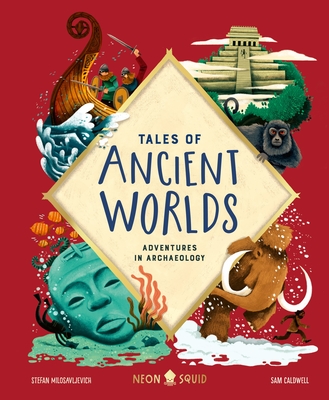 $21.99

Usually Ships in 1-5 Days
Description
---
What links shipwrecks, Egyptian treasure, and fossilized Viking poop? They're all things that have been discovered by archaeologists!

Pick up your shovel and Indiana Jones hat and dig into the world of archaeology in Tales of Ancient Worlds, a nonfiction kids' book by YouTuber Stefan Milosavljevich – the perfect gift for budding archaeologists! Alongside beautiful illustrations by Sam Caldwell you'll find incredible tales from history, including:

• The ancient Egyptian city found at the bottom of the ocean
• The terracotta army that hid underground for 2,000 years
• The mysterious Ice Age temple made from mammoth bones

Along the way you'll also find out if you have what it takes to be an archaeologist, unearth (literally) groundbreaking scientific techniques, and meet the pioneering women and men who have brought the past back to life.
About the Author
---
Stefan Milosavljevich has been obsessed with history ever since he was young. He makes videos about archaeology on his YouTube channel Stefan Milo, often holding a plastic spoon as a microphone. Stefan's aim is to bring the past to life and inspire a fascination in humanity's incredible journey.

Sam Caldwell is an illustrator based in Glasgow, UK. He studied Painting at the Edinburgh College of Art. His kids' books include Weird, Wild, Wonderful and The Woo Hoo Crabs.

Neon Squid creates beautiful nonfiction books for inquisitive kids (and kids at heart). We believe the most amazing stories are real ones, so our books are for children who want to decipher ancient scrolls, orbit distant stars, and dive into the deepest oceans. Our books are a labor of love—written by experts, illustrated by the best artists around, and produced using the finest materials, including sustainably sourced paper. We hope that by reading them kids are encouraged to further explore the world around them.
Praise For…
---
"Tales of Ancient Worlds is a wonderful gift for any child of elementary to middle school age. But I would not hesitate to start a child as young as 4 on this book as an evening reader. The illustrations alone are enough to invoke curiosity and start discussion." -- Archaeology Review

"A high point of the book is that appropriate credit is given to Indigenous custodians of heritage worldwide, such as the Mirarr traditional owners of Madjedbebe... this book will delight anyone with a budding interest in archaeology." --Nature