Enemy of the People: A Cartoonist's Journey (Paperback)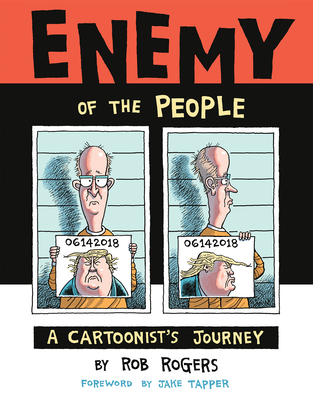 Description
---
After 25 years as the political cartoonist for the Pittsburgh Post-Gazette, Rob Rogers was fired for drawing cartoons critical of President Trump.

In Enemy of the People Rogers writes, "Trump's open embrace of the darkest, ugliest corners of human nature has emboldened racists, neo-Nazis, criminals, thugs, despots, misogynists and liars to come out from under their rocks and display their shameful behavior publicly. That includes publishers and editors who years ago may have been too ashamed to express their hateful views on the editorial page." From a cartoonkilling spree to a social media buzz, from an appearance on CNN to his final days at the paper, Rogers chronicles his unenviable journey with honesty, wit, and humor.
About the Author
---
Rob Rogers is an award-winning freelance editorial cartoonist living in Pittsburgh. His cartoons have been vexing and entertaining readers since 1984 when he joined the Pittsburgh Press as an intern. In 1993, he was hired by the Pittsburgh Post-Gazette. Syndicated by Andrews McMeel Syndicate, (formerly Universal Press), Rogers' work has also appeared in The New York Times, The Washington Post, USA Today, Newsweek and The Week, among many others.

In 2009, Rogers celebrated 25 years as a Pittsburgh editorial cartoonist with the release of his book, No Cartoon Left Behind: The Best of Rob Rogers, published by Carnegie Mellon University Press. In 2015, he released a local cartoon collection called, Mayoral Ink: Cartooning Pittsburgh's Mayors.

In 2018, after 25 years on staff at the Pittsburgh Post-Gazette, Rogers was fired for drawing cartoons critical of President Trump.
Praise For…
---
"Rob Rogers exemplifies (the) idea of an 'American genius' ..." —Sanjit Sethi, Director, George Washington University's Corcoran School of the Arts and Design

"I have called (Rogers) the Venus flytrap of cartooning because his cartoons are immediately entertaining and then, on further inspection, reveal insight and power." —Steve Brodner, Illustrator, caricaturist, journalist and educator

"Rogers is opinionated, unrestrained and a wisenheimer of the top chop. In short, he's doing his job. He is the indispensable irritant that keeps us scratching and thinking." —Dennis Roddy, Award-winning political consultant and former columnist and reporter for the Pittsburgh Post-Gazette

"They got another one of us. A cartoonist. Rob Rogers. In Paris they used bullets. In Pittsburgh they used bureaucrats. In Paris they did it for the prophet. In Pittsburgh they did it for the president." —Andy Marlette, Editorial cartoonist for the Pensacola (Fla.) News Journal