Healing: When a Nurse Becomes a Patient (Paperback)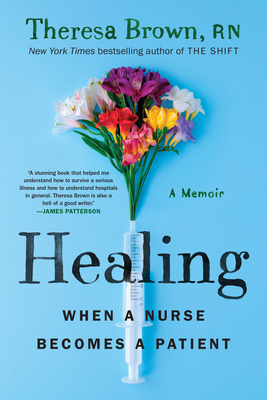 Description
---
"Unflinching. Brown writes with a winning combination of passion, humor, and medical knowledge." —The Washington Post
 
From the mammogram that would change her life through her diagnosis, treatment, and recovery, New York Times bestselling author Theresa Brown tells a poignant and powerful story about having breast cancer in the United States. Despite her training and years of experience as an oncology and hospice nurse, Brown finds it difficult to navigate the medical maze from the other side of the bed, especially because she knows that speaking up and being labeled a "difficult" patient could mean she'll get worse care. Like the almost four million women in this country living with breast cancer, Brown has a treatable form of the disease, but in Healing she shows that, though our for-profit health care industry may "cure" us, it can leave many of us feeling alienated and uncared for. "People failed me when I was a patient and I failed patients when working as a nurse. I see that now," she writes. As she did so brilliantly in her New York Times bestseller, The Shift, Brown relays the unforgettable details of her daily life as a nurse, this time looking back at some of her own cases and considering what she didn't know then about the warping effects of fear and the healing virtues of compassion. Healing is a must-read for anyone who has ever interacted (or ever will interact) with medicine, which is all of us.
 
About the Author
---
Theresa Brown, RN, author of the New York Times bestseller The Shift, is a New York Times contributor. Her writing also appears on CNN.com and in the American Journal of Nursing, the Journal of the American Medical Association, and the Pittsburgh Post-Gazette. She has been a guest on MSNBC Live and NPR's Fresh Air. Her first book was Critical Care, and during what she calls her past life, she received a PhD in English from the University of Chicago. She lectures nationally and internationally on issues related to nursing, health care, and end of life. Find her at theresabrown.com

This author is represented by the Hachette Speakers Bureau.
 
Praise For…
---
"A stunning book that helped me understand how to survive a serious illness and how to understand hospitals in general. Theresa Brown is also a hell of a good writer."
—James Patterson

"Revealing and heart-wrenching . . . Alternating the narrative between her time as a nurse and as a patient, she passionately shares the range of emotions she felt and offers advice for both patients and nurses who are facing breast cancer . . . By sharing her story, Brown delivers much-needed advocacy for those who are often ignored or misunderstood. An essential read for all members of the medical community."
—Kirkus Reviews (starred review)

"An unflinching look by a former nurse at the lack of compassion in our health-care system and the harms that patients suffer because of it…Brown writes with a winning combination of passion, humor and medical knowledge."
—Washington Post

 "An extraordinary writer, Theresa Brown brings the reader into all of her worlds, showing how cancer affected her as a patient, nurse, mother, daughter, wife, and friend. This is more than a good read. Oops, I am crying again."
—Claire M. Fagin, PhD, RN, Professor Emerita and Dean Emerita, School of Nursing, University of Pennsylvania 

"This is the book I want to give to all my colleagues and patients—a smart, moving, clear-eyed, yet ultimately hopeful jewel of a read on health and care from one of the most thoughtful healthcare writers I know."
—Pauline W. Chen, MD, New York Times contributor and bestselling author of Final Exam: A Surgeon's Reflections on Mortality

"A deeply moving story of an oncology nurse forced to navigate our imperfect health care system after an ultrasound exam upends her life. Brown offers important lessons for patients and health care providers alike."
—Damon Tweedy, New York Times bestselling author of Black Man in a White Coat: A Doctor's Reflections on Race and Medicine

"Timely . . . Brown's clear-eyed and eloquent examination of illness—from the inside and from the outside—is illuminating… moving and enlightening."
—Library Journal

"Healing should be read by everyone, not just those facing cancer. Brown experiences both grief and revelation, and the beauty of her book is that we learn so much about hope and fear and coping, about living and dying and everything in between."
—Bobbie Berkowitz, PhD, RN, FAAN, Emeritus Dean, Columbia University School of Nursing 
 
"By relating her own intimate experiences with cancer, Brown provides a candid critique of a system that sometimes fails people when they are most vulnerable. A brave and rare book that advocates for greater compassion in healthcare."
—Pamela F. Cipriano, PhD, RN, FAAN, Dean, University of Virginia School of Nursing
 
"Riveting and wrenching, Theresa Brown's memoir takes us into the heart of what it means to be mortal. Examining illness from the inside and the outside, Brown's sure hand provides a clear-eyed narrative that's both intimate and harrowing."
—Danielle Ofri, MD, PhD, editor of Bellevue Literary Review and author of When We Do Harm: A Doctor Confronts Medical Error

"A compelling and beautiful book. Brown's personal depth in her narrative and remarkable tie-ins across many facets of history and literature draw the reader in and make it clear how much work we have to do in healthcare to get to reliable, humane practices."
—Terry Fulmer, PhD, President, John A. Hartford Foundation, former Dean, NYU College of Nursing

"In her wide-ranging examination of fear, illness, and life in what she calls 'cancer's shadow,' Brown never fails to reveal her own humanity. Healing is a book not only for breast cancer patients and their loved ones, but for anyone else who cares about caring. Most importantly, Brown shows us the importance of perspective: how the value of compassion becomes infinitely greater when it becomes your own life that needs saving."
—Chicago Review of Books

Praise for The Shift:
"An engrossing human drama . . . The Shift is one nurse's story, but it contains elements of every nurse's experience." –The Wall Street Journal

"The Shift . . . should be required reading for all incoming medical and nursing students--or anyone who is a patient or visitor in a hospital . . . Her story is riveting in the exacting way she recounts the way her day unfolds." –Pittsburgh Post-Gazette

"Brown does an excellent job of taking us moment by moment through her day . . . keeping the narrative flowing. The reader feels her affection and deep sense of responsibility for her patients." –Minneapolis Star-Tribune