The Power of Existing Buildings: Save Money, Improve Health, and Reduce Environmental Impacts (Paperback)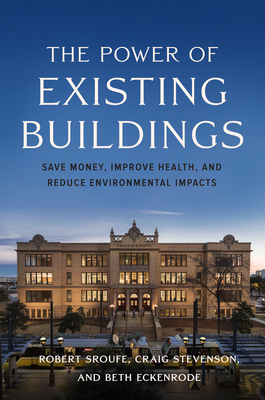 Description
---
Your building has the potential to change the world. Existing buildings consume approximately 40 percent of the energy and emit nearly half of the carbon dioxide in the US each year. In recognition of the significant contribution of buildings to climate change, the idea of building green has become increasingly popular. But is it enough? If an energy-efficient building is new construction, it may take 10 to 80 years to overcome the climate change impacts of the building process. New buildings are sexy, but few realize the value in existing buildings and how easy it is to get to "zero energy" or low-energy consumption through deep energy retrofits. Existing buildings can and should be retrofit to reduce environmental impacts that contribute to climate change, while improving human health and productivity for building occupants.
 
In The Power of Existing Buildings, academic sustainability expert Robert Sroufe, and construction and building experts Craig Stevenson and Beth Eckenrode, explain how to realize the potential of existing buildings and make them perform like new. This step-by-step guide will help readers to: understand where to start a project; develop financial models and realize costs savings; assemble an expert team; and align goals with numerous sustainability programs. The Power of Existing Buildings will challenge you to rethink spaces where people work and play, while determining how existing buildings can save the world. 
 
The insights and practical experience of Sroufe, Stevenson, and Eckenrode, along with the project case study examples, provide new insights on investing in existing buildings for building owners, engineers, occupants, architects, and real estate and construction professionals. The Power of Existing Buildings helps decision-makers move beyond incremental changes to holistic, results-oriented solutions.
 
About the Author
---
Robert Sroufe is Murrin Chair of Global Competitiveness at Duquesne University in Pittsburgh; Curriculum Lead for the MBA Sustainability Program, John F. Donahue Graduate School of Business; and Full Professor, Management Department. Craig Stevenson and Beth Eckenrode are co-founders of the AUROS Group, a systems integrator that consults with building owners and developers, funders and project team members to define performance goals during planning, make informed decisions during design and construction and then track actual performance against goals once buildings are operational.
Praise For…
---
"High-performance buildings are key to achieving the UN's 2030 Agenda for Sustainable Development. Most of today's buildings will still be in use in 2050, and their energy performance must be managed. As shown in this timely book, the capability to meet the challenge exists today."
— Scott Foster, Director, Sustainable Energy, United Nations Economic Commission for Europe

"Practice meets theory. The Power of Existing Buildings describes practical, tested ways for building owners to improve the energy performance of existing buildings profitably. Illustrated with compelling, real-world examples, this book shows the opportunity inherent in existing buildings, and how we can build a better environment through thoughtful renovation."
— Victor Olgyay, Principal, Rocky Mountain Institute

"Our future depends on low-energy buildings with great indoor air quality. The Power of Existing Buildings is the evidence-based resource showing exactly how to do it."
— Anjanette Green, Director, Standards Development, RESET

"As an owner of older, public buildings, we look for cost-effective ways to extend and improve the performance of our existing structures. The Power of Existing Buildings provides a data-driven approach for building owners planning to renovate old buildings into sustainable structures with lower energy consumption and improved indoor air quality."
— Greg Stewart, Administrator, Ohio County Commission, West Virginia

"Today, most of our old building stock requires updating to reflect the current needs and demands of today's clients, as well as our new climate reality. This book offers a sound approach to tackling this task, based on the building science practices endorsed by the North American Passive House Network (NAPHN). It includes a viable financial pathway to support what must be seen as an evolution; the updating of old systems to allow the charm and character inherent in old buildings to remain viable for future generations."
— Bronwyn Barry, RA, CPHD, NAPHN Board President

"Buildings make up 80 percent of the City of Pittsburgh's carbon footprint. If we are going to make meaningful progress in reducing carbon emissions, we need to address the backlog of opportunity within our existing building stock. The Power of Existing Buildings provides a roadmap for building operators, policymakers, real estate developers, and anyone who is looking to create higher performing buildings. These techniques and strategies are key components of our game plan to push buildings to net zero."
— Grant Ervin, Chief Resilience Officer, City of Pittsburgh

"Owners lack confidence that their investments in existing buildings will lead to improved performance in operations, so quite often they do nothing. The Power of Existing Buildings lays out the building science and technology-based tools available today that are essential to fully integrating design, construction, and operations, ultimately increasing an owner's return on investment. The more integration on a project, the higher the return."
— Bob Berkebile, Principal Emeritus, bnim

"Internationally, industry leaders are successfully and affordably delivering deep energy retrofits of existing buildings. Many countries either have, or soon will have, building codes requiring such retrofits; yet how they are achieved remains unknown to many. The Power of Existing Buildings is a compelling synthesis of the fundamental principles enabling the successful delivery of such projects, and is essential reading for owners, project teams, and policy makers."
— Rob Bernhardt, Chief Executive Officer, PassiveHouse Canada

"A brilliant intersection of design, technology, building science, and operations, this definitive work is the roadmap to zero in existing buildings. This is a must read."
— Laura Nettleton, Founder and Architectural Coordinator, Thoughtful Balance