The Big Book of Organic Toddler Food: A Quick and Easy Cookbook to Feed the Whole Family (Paperback)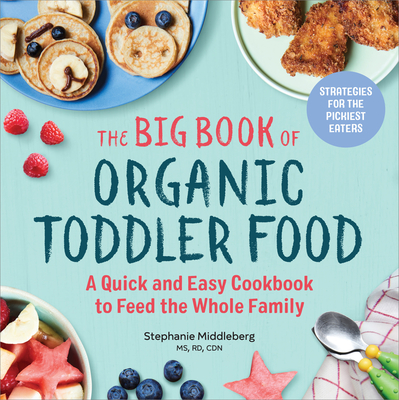 $16.99

Usually Ships in 1-5 Days
Description
---
Organic, yummy, fast and family-friendly recipes your toddler foodie will love.
Toddlers have a lot of opinions, especially when it comes to food. With
The Big Book of Organic Toddler Food
, you'll create simple, delicious meals that satisfy your toddler's changing nutritional needs and the taste buds of everyone in the household, even the little picky one.
In
The Big Book of Organic Toddler Food
, Stephanie Middleberg draws on her nutritional expertise as a certified nutritionist and founder of Middleberg Nutrition, as well as her hard-earned wisdom as the mom of two, to bring you the ultimate guide to nourishing your little one with delicious organic foods
without
a meltdown!
Your ultimate toddler cookbook,
The Big Book of Organic Toddler Food
includes:
125+ simple, healthy recipes that will appeal equally to your toddler and all other family members, saving you time and money
An overview of toddlerhood including signs of readiness for toddler-specific foods, food allergen and safety guidance, bottle weaning and milk introduction, baby tableware buying guidance, and more
Organic food fundamentals that cover food labels, pantry prep, seasonal eating, and convenience food guidance
From yummy breakfast recipes like Chocolate Chip Oat Banana Blender Muffins to family-ready dinners like Zucchini Noodles with Slow Cooker Turkey Meatball Marinara,
The Big Book of Organic Toddler Food
will not only ensure your toddler is eating nutritious, delicious food, but that you aren't spending all your waking hours in the kitchen.
About the Author
---
STEPHANIE MIDDLEBERG, MS, RD, CDN is the author of the bestselling cookbook The Big Book of Organic Baby Food and one of New York City's most sought-after health experts. The founder and owner of Middleberg Nutrition, she and her team of registered dietitians offer nutritional counseling, consulting, and cooking classes to individuals and families.

Stephanie has been featured in top tier media publications including Harper's Bazaar, Elle, Fitness, Glamour, Shape, Self, Cosmopolitan, Women's Health, Marie Claire, Redbook, Good Housekeeping, Women's Day, and MSNBC.com. When she isn't working with her clients or media outlets, you can find Stephanie jogging with her husband and son, traveling, or concocting recipes in the Middleberg Nutrition Test Kitchen.
Praise For…
---
"If you have young children (let alone picky young children) you know just how challenging it can be to feed them. You are probably worried about meeting nutrient needs, serving appropriate portions, and satisfying developing taste buds…and doing so under a time and financial budget—not once, twice, but three times a day. Parenting is hard work! Fortunately, The Big Book of Organic Toddler Food offers practical, useful, and invaluable information in addition to easy-to-make and mouthwatering recipes to help moms and dads cut through the confusion and nourish growing bodies. As author Stephanie Middleberg aptly points out, (healthy) food is love and this lesson is best learned at an early age."—Joy Bauer, nutrition and health expert for the TODAY show

"The Big Book of Organic Toddler Food is a dream come true! As a yoga teacher and fitness professional, I've always been interested in feeding my boys healthy wholesome organic foods. Stephanie has made it so accessible and easy for all moms to choose organic and get their toddlers interested in eating a rainbow of colors! From finger foods to dinners, she has you covered and it's not as hard as you think. I have 3 boys and as picky as they are I've been able to keep them eating healthy foods; thank you, Stephanie! I highly recommend this book to all moms!"—Kristin McGee, celebrity yoga and Pilates instructor

"Over the past 30 years of practice as a holistic pediatrician I have managed many challenging conditions with families, but nothing is perhaps more stressful, frustrating, and confusing for parents than the struggle to provide a healthy diet for their toddler. How can such a little person be such a challenge? Stephanie Middleberg has brought her vast expertise as a dietician to meet this challenge. In The Big Book of Organic Toddler Food she provides a feast of facts, tips, and recipes that will set your child on the right path of making healthy choices for the rest of his or her life. From smoothies to snacks and all the meals in between, she will help you navigate the conflicting information out there about food choices and show you how to open your child's heart to a more joyful, loving experience of eating that will benefit the whole family."—Dr. Steven Cowan, Author of Fire Child Water Child