The Lean Law Firm: Run Your Firm Like the World's Most Efficient and Profitable Businesses (Paperback)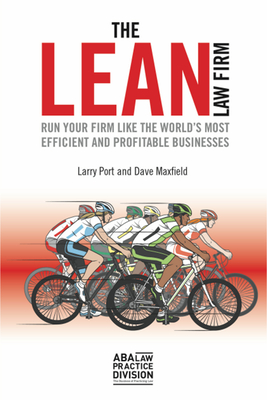 $91.94

Usually Ships in 1-5 Days
Description
---
It's a difficult world for law firms these days. Client demands, increased competition, and the distractions of technology can put pressure on any business. Law firms who try to respond with "traditional" firm management are perhaps more susceptible than any other business to falling victim to the chaos.
But fortunately, there's a solution. And it's found not in traditional law firm management methods, but in the practices of some of the world's most efficient and forward-thinking manufacturing companies who learned---long ago--the power of lean methodologies and systems thinking. Far from a dry read,
The Lean Law Firm
is the first book published by the ABA to employ the graphic novel to teach business lessons. Follow the engaging story of lawyer Carson Wright, who suddenly finds himself responsible for saving a small law firm, as his mentor Guy Chapman imparts the lean techniques that transformed his factory from the brink of bankruptcy to new heights of profitability. As you watch the
The Lean Law Firm
story unfold, you'll see how your own firm is really just a system. You'll get an immediately usable template for making that system lean and efficient. And, from your new understanding you'll reap not only financial benefits, but a renewed enthusiasm for running your firm.
Join us, and start your own Lean story

About the Author
---
Larry Port has worked with thousands of law firms since 2008 when he started the first cloud-based legal practice management software company, Rocket Matter. Residing in Boca Raton, Florida, Larry is a speaker and award-winning writer at the crossroads of the attorney wellness, legal profession, technology, and law firm marketing. Dave Maxfield has spent his entire, 25-year legal career as sole practitioner or in a two-person law firm. His solo practice is located in Columbia, South Carolina, where he has served as the three-time Chairman of the Consumer Law section of the South Carolina Bar and is a member of the National Association of Consumer Advocates and Public Investors Arbitration Bar Association.