The Once Upon a Time World: The Dark and Sparkling Story of the French Riviera (Hardcover)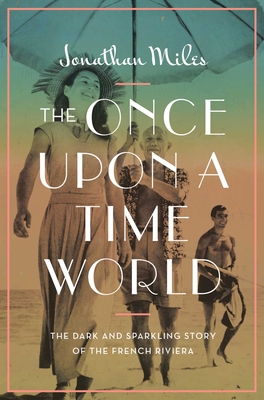 $35.00

Usually Ships in 1-5 Days
Description
---
*A New York Times Book Review Editor's Choice*

Chronicling two-hundred years of glamour, intrigue, and hedonism, this rich and vivid history of the French Riviera features a vast cast of characters, from Pablo Picasso and Coco Chanel to Andre Matisse and James Baldwin.

1835, Lord Brougham founded Cannes, introducing bathing and the manicured lawn to the wilds of the Mediterranean coast. Today, much of that shore has become a concrete mass from which escape is an exclusive dream. In the 185 years between, the stretch of seaboard from the red mountains of the Esterel to the Italian border hosted a cultural phenomenon well in excess of its tiny size.

A mere handful of towns and resorts created by foreign visitors - notably English, Russian and American - attracted the talented, rich and famous as well as those who wanted to be. For nearly two centuries of creativity, luxury, excess, scandal, war and corruption, the dark and sparkling world of the Riviera was a temptation for everybody who was anybody. Often frivolous, it was also a potent cultural matrix that inspired the likes of Picasso, Matisse, Coco Chanel, Scott Fitzgerald, Cole Porter, James Baldwin, Catherine Mansfield, Sartre and Stravinsky.

In Once Upon a Time World, Jonathan Miles presents the remarkable story of the small strip of French coast that lured the world to its shores. It is a wild and unforgettable tale that follows the Riviera's transformation from paradise and wilderness to a pollution imperiled concrete jungle.
About the Author
---
After a nomadic childhood in the United States, Canada and the United Kingdom, Jonathan Miles has been travelling ever since and currently lives in Paris. He studied at University College, London and received his doctorate from Jesus College, Oxford. He is the author of several books, including Medusa: The Shipwreck, the Scandal and the Masterpiece, Nine Lives of Otto Katz and St Petersburg: Three Centuries of Murderous Desire, which were all published to international acclaim.
Praise For…
---
"Jonathan Miles's Once Upon a Time World is a delightful, dizzying romp through the world's most glamorous muse: the French Riviera. Reading this breathtaking account of the transformations of the French Riviera over the last two millenniums is like riding shotgun with a racecar driver in the Monaco Grand Prix."


— The New York Times Book Review, Editor's Choice

"Why did they come to the Riviera? Mr. Miles credits an alluring trifecta that persists to this day: natural beauty, man-made entertainment and proximity to prominence. Picasso, Monet and Renoir all painted here. Nietzsche and F. Scott Fitzgerald wrote here. Matisse designed a chapel here, and the dancer Isadora Duncan died here after her scarf tangled in a car's wheel during an evening ride. Here, of course, is the Côte d'Azur, a slice of southern France that for decades has been host to extravagant creativity and tragedy, grand gestures and bad behavior."


— The Wall Street Journal

"In Jonathan Miles's new, thoroughly engaging book, The Once Upon a Time World, he chronicles the history of the French Riviera, that strip of land and glittering coast that runs from the rust-red rocks of the Esterel Massif to the Italian border."


— Washington Examiner

"The story of how the French Riviera was born a century ago is well-known, but this fascinating account goes back much, much farther than that. Consider this a whirlwind history tour of the region, from its Roman Empire beginnings, to the influx of royals in the Belle Epoque to the Murphy era in the 1920s and beyond, with plenty tales of scandal, corruption, and greed in between."


— Town & Country

"This lively history of the French Riviera is filled with enchanting morsels."


— Booklist

"There's much to learn in this sweeping history that traces the French Riviera from its geological formation through the Belle E´poque, the Roaring Twenties, and both world wars to the present day."
— Library Journal

"Throughout, Miles focuses on artists (Henri Matisse, Pablo Picasso) and writers (Katherine Mansfield, James Baldwin), tracing the impact of the gorgeous seaside on their work and on their personal lives. Stuffed with entrancing details, it's a charming look at a storied region."
— Publishers Weekly

"For a small slice of geography, the French Riviera has cast a long shadow, and it is one of wealth, style, and decadence. Miles has a great time recounting the history of the Riviera, making the book an enjoyable, absorbing read."
— Kirkus Reviews

"Entertaining and comprehensive. Distant conflicts, revolutions and financial crises, as much as the oscillations of Paris fashion, all echoed on the Côte-D'Azur. Dr. Miles chronicles all this with a keen eye for piquant details."

— The Economist

"He corrals all the all the myths and legends into a bigger-picture mosaic. Miles writes in a rattling from-the-hip fashion, which only adds to the book's party atmosphere. The French Riviera emerges from this well-researched, enthuasiastically shaped book as a constant temptation."
— Financial Times