The New Evil: Understanding the Emergence of Modern Violent Crime (Paperback)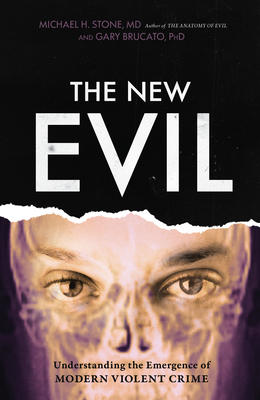 Description
---
A CHILLING FOLLOW-UP TO THE POPULAR TRUE CRIME BOOK THE ANATOMY OF EVIL

Revisiting Dr. Michael Stone's groundbreaking 22-level Gradations of Evil Scale, a hierarchy of evil behavior first introduced in the book The Anatomy of Evil, Stone and Dr. Gary Brucato, a fellow violence and serious psychopathology expert, here provide even more detail, using dozens of cases to exemplify the categories along the continuum. The New Evil also presents compelling evidence that, since a cultural tipping-point in the 1960s, certain types of violent crime have emerged that in earlier decades never or very rarely occurred.

The authors examine the biological and psychiatric factors behind serial killing, serial rape, torture, mass and spree murders, and other severe forms of violence. They persuasively argue that, in at least some cases, a collapse of moral faculties contributes to the commission of such heinous crimes, such that "evil" should be considered not only a valid area of inquiry, but, in our current cultural climate, an imperative one. They consider the effects of new technologies and sociological, cultural, and historical factors since the 1960s that may have set the stage for "the new evil." Further, they explain how personality, psychosis, and other qualities can meaningfully contribute to particular crimes, making for many different motives.

Relying on their extensive clinical experience, and examination of writings and artwork by infamous serial killers, these experts offer many insights into the logic that drives horrible criminal behavior, and they discuss the hope that in the future such violence may be prevented.
About the Author
---
Michael H. Stone, MD,is professor of clinical psychiatry at the Columbia College of Physicians and Surgeons. He is the author of ten books, most recently The Anatomy of Evil and over two hundred professional articles and book chapters. From 2006 to 2008, he was the host of Discovery Channel's series Most Evil and has been featured in the New York Times, Psychology Today, the Christian Science Monitor, CNN, ABC News, CBS News, NBC News, the New York Post, the London Times, the BBC, and Newsday, among many other media outlets.

Gary Brucato, PhD, a clinical psychologist and researcher in the areas of violence, psychosis, and other serious psychopathology, is the assistant director of the Center of Prevention and Evaluation at the New York State Psychiatric Center/Columbia University Medical Center. A regular contributor to the academic literature, he is widely consulted by professionals and patients throughout the country. His research group has recently acquired a grant from the National Institute of Mental Health to study the relationship between early psychotic symptoms, and violent thoughts and behavior.
Praise For…
---
"Fascinating, disturbing. . . . Budding criminologists will find this a useful resource for study and contemplation, while TRUE CRIME ENTHUSIASTS WILL BE RIVETED by the assiduous prodding into the criminal mind."           

—Publishers Weekly 

"The New Evil is a book that will not only be considered groundbreaking but a work that's also long overdue, given the violent changes that have convulsed the United States since the 1960s. A follow-up to The Anatomy of Evil, it is the study of evil itself and the individuals who commit it. There are reasons for the types of violence we are seeing today, and Drs. Michael Stone and Gary Brucato have given us not just something we want to read but also something we absolutely must read if we're ever going to understand the mind-set of these killers."

—Kevin M. Sullivan, author of The Bundy Murders: A Comprehensive History

"This impressive team of clinical experts has gotten as close to evil as anyone ever has. They've come face-to-face with some of the world's worst offenders. Building on Stone's twenty-two-step scale of evil, Brucato and Stone unflinchingly explore shocking acts of depraved aggression so we can better understand and treat violent individuals. The New Evil should be required reading in criminology and forensic psychology."
 
—Katherine Ramsland, PhD, professor of forensic psychology and author of Confession of a Serial Killer: The Untold Story of Dennis Rader, the BTK Killer

"A fascinating and disturbing addition to the study of violent crime and its motivations. Stone and Brucato explore the twenty-two gradations of evil and compare earlier felonious acts to the abrupt escalation and broadened diversity of the new era of violence that arrived in the 1960s. The New Evil merits inclusion on the reference shelf alongside the classics by Hare and Cleckley."
 
—Diane Fanning, author of Bitter Remains and Edgar® Award finalist

"Unflinchingly and insightfully examining hundreds of cases of serial murder, mass shootings, sexual assault, and other atrocities, Stone and Brucato dare to ask, 'What is evil, and how does it fit into our current psychiatric and legal frameworks?' Their blood-chilling catalog of the most terrible crimes of the last half century is interwoven with keen observations regarding the role of our ever-coarsening culture in giving breadth and scope to these atrocities, giving us genuine pause upon pause."
 
—John Douglas, FBI criminal profiler and author of the #1 New York Times–bestseller Mindhunter

"This remarkable compendium of 'evil' should be in the libraries of psychologists, psychiatrists, prosecutors, homicide investigators, criminal attorneys, and anyone with an interest in the criminal mind throughout the world. The extensive research alone makes this a benchmark text. The authors explain and define the elements of evil and illustrate to the reader this abhorrent evil from psychosis to psychopathy, ranging from crimes of passion to sexual serial murder. The text consists of the Scales of Depravity that uses a twenty-two-point gradation system to classify evil based on actual case studies encompassing information from over 780 research and clinical sources, which elucidate concise and detailed information about the psychodynamics and psychopathology of maladaptive behavior as it relates to murder."
 
—Cmdr. Vernon J. Geberth, MS, MPS, Fellow of the American Academy of Forensic Sciences and author of Sex-Related Homicide and Death Investigation

"In this impressive book, Dr. Stone and Dr. Brucato provide one of the most comprehensive, conceptually clear frameworks on the typology of violence. Using extensive case studies, they explore and offer insight into different motives and patterns of homicides and other violent behavior. This book sharpens and enhances our understanding of violence and psychopathology of evil acts like no other resource."
 
—Ali Khadivi, PhD, clinical and forensic psychologist and professor of psychiatry and behavioral sciences, Albert Einstein College of Medicine

"Stone's classic book The Anatomy of Evil has provided the most detailed and comprehensive description of psychopathic behavior available in contemporary psychiatric literature. The present volume, written by him in collaboration with Dr. Gary Brucato, further deepens and expands the precise presentation of the entire spectrum of psychopathy, proposes a comprehensive set of a 'Gradations of Evil' scale, and thus makes a fundamental contribution to the diagnostic and prognostic evaluation of this pathology. A major, disturbing finding emerges from this study: the increase of extremely destructive, violent individual criminal behavior since the 1960s in this country and, to a lesser degree, in other parts of the world. This book challenges the reader to become concerned about the increase of evil that we are witnessing, to reflect on its causes, and to recognize our collective responsibility to confront this development. It is a must-read for all mental health professionals and for the educated citizen alert to our social problems."
 
—Otto Kernberg, MD, professor of psychiatry at the Weill Cornell Medical College, and training and supervising psychoanalyst at the Columbia University Center for Psychoanalytic Training and Research

"The varieties of evil encountered in the commission of serious crimes can easily defy understanding. The first step toward making sense of all of this is through the process of classification. Identifying the critical elements that things have in common in order to classify them into categories helps to impose order on a chaotic, mystifying, and often horrifying aspect of human behavior. By dividing motivations for murder and other serious crimes into twenty-two well-defined gradations that range from the least evil (killing in self-defense) to evil at its most extreme (murder in the context of torture), Stone and Brucato's excellent book The New Evil provides readers with the tools to tease apart the motivations underlying violent crime acts and to help make the unfathomable more understandable."
 
—Michael B. First, MD, editorial consultant on the fifth edition of the American Psychiatric Association's Diagnostic and Statistical Manual of Mental Disorders