The Pretty Dish: More than 150 Everyday Recipes and 50 Beauty DIYs to Nourish Your Body Inside and Out (Hardcover)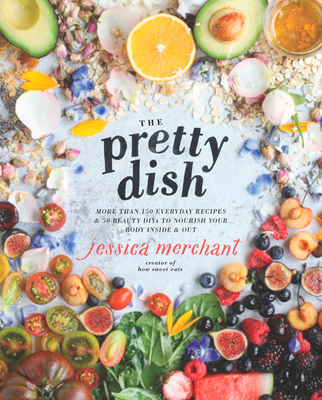 $29.99
Usually Ships in 1-5 Days
Description
---
150 brand-new recipes, party ideas and menus, killer playlists, and inventive beauty projects from How Sweet Eats blogger Jessica Merchant.

Jessica Merchant is like your most reliable girlfriend—that is, if your girlfriend was a passionate cook and serious beauty junkie. With her second book, she brings her signature playfulness to the page. It's filled with 150 brand-new recipes, along with themed menus, party ideas, killer playlists, and inventive beauty projects.

She's the extra hand guiding you in the kitchen giving you the most inventive pizza toppings (crispy kale and summer corn), showing you how to make hibiscus blueberry mint juleps, and telling you the coolest way to make an avocado face mask while you plan your weekly menu on Saturday morning. All her recipes are deliciously indulgent (think: poke tacos, toasted quinoa chocolate bark, pistachio iced latte) and all take 60 minutes or less to make.
About the Author
---
Jessica Merchant is a full-time recipe developer and writer who happens to be crazy passionate about all things food. She is the author of Seriously Delish, and details her adventures in and out of the kitchen on her popular blog, How Sweet Eats, which is read by millions.
Praise For…
---
"Jessica Merchant is the embodiment of the gorgeous, successful, modern woman we all aspire to be. The Pretty Dish serves as a playbook for the sweeter side of life. Full of utterly delicious, vibrant recipes, natural beauty concoctions, and curated playlists for every mood, the aspirational has never been more attainable."
—Andie Mitchell, New York Times bestselling author of It Was Me All Along

"This cookbook is absolutely gorgeous—Iliterally want to make everything! Jessica is so creative in the kitchen; her delicious recipes are crowd-pleasing and fresh. I'm excited to have this cookbook on my shelf!"
—Gina Homolka, author of The Skinnytaste Cookbook and Skinnytaste Fast and Slow

"Discovering Jessica Merchant changed myalready pretty great life for an even better life. She personifies my philosophy that we have three chances EVERY DAY to celebrate being alive: breakfast, lunch, and dinner. Every single recipe in this book will make your day and some will even make you pretty. Jessica is my culinary hero."
—Elin Hilderbrand, author of The Identicals
Congratulations!
Our very own Marie Benedict is #7 on the New York Times Bestsellers List with her enchanting new novel,
The Only Woman in the Room.
Join us in congratulating Ms. Benedict and stop in for a signed copy of her novel!