Eat Right for Your Sight: Simple, Tasty Recipes that Help Reduce the Risk of Vision Loss from Macular Degeneration (Paperback)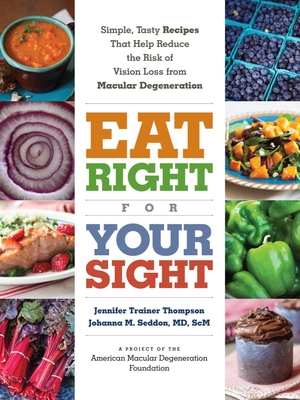 Description
---
Safeguard your vision with 85 simple, satisfying recipes rich in the nutrients that fight macular degenerationThe Bad News:
Age-related macular degeneration (AMD) is the leading cause of central vision loss in adults over the age of fifty. It can wreak havoc on the ability to see faces, read, drive, and move about safely. Millions of people are at risk, and we still don't have a cure.
The Good News:
The latest research suggests that healthy lifestyle choices, including a diet rich in lutein, zeaxanthin, and other key nutrients, can delay the onset and progress of AMD. Eat Right for Your Sight provides a delicious way to add the best ingredients for eye health to every meal of the day. Feast your eyes on these appealing recipes:
Sweet Pea Guacamole
Chicken-Vegetable Noodle Bowls
Garlic-Lime Pork Chops
Carrot-Ginger Juice . . . and more!
Every recipe includes comprehensive nutrition information and has been carefully crafted to act like medicine but not taste like it. Taking care of your eyes has never been easier!
With Recipes from
Lidia Bastianich
,
Ina Garten
,
Jacques Pépin
,
Alice Waters
,
Andrew Weil, MD
, and other superstars of healthy cooking.
About the Author
---
Jennifer Trainer Thompson is the author of 18 books, including Fresh Fish, The Fresh Egg Cookbook, and Hot Sauce! Nominated for three James Beard Awards, she has been featured in Martha Stewart Living and Coastal Living magazines, and she has written for Yankee, Travel & Leisure, the Boston Globe, and the New York Times, among other publications. Thompson is the chef/creator of Jump Up and Kiss Me, an all-natural line of spicy foods. She splits her time between the Berkshires and Buzzards Bay in Massachusetts.

Johanna M. Seddon, MD, ScM, is a professor of ophthalmology at University of Massachusetts Medical School, and the director of Retina as well as the director of the Macular Degeneration Center of Excellence in the Department of Ophthalmology and Visual Sciences at the University of Massachusetts Medical School in Worcester. Her research has earned numerous awards and honors.
Praise For…
---
"A diet rich in lutein, zeaxanthin and other key nutrients may delay the onset and progress of age-related macular degeneration (the leading cause of central vision loss in adults over 50), and these recipes can help fit eye health into every meal."—Food and Nutrition Magazine

"Eat Right for Your Sight is a beautifully illustrated, 240 page compendium comprise of palate pleasing, appetite satisfying, nutritionally enhanced dishes that would be appropriate for any and all dining occasions—and have the additional benefit of being impressive sources of the kinds of nutrients that healthy eyes and eyesight require."—Midwest Book Review

"I often call my medical thrillers 'Cook Books,' but Eat Right for Your Sight is a wonderful real one that proves Benjamin Franklin's adage that an ounce of prevention is worth a pound of cure!"
—Robin Cook, MD, best-selling author and physician

"This isn't just a cookbook for eye health, it's a blueprint for healthy eating in general. I love all the nutrition tips: combine spinach and strawberries to maximize your iron absorption; add roasted squash to hummus puree to boost your vitamin A intake. And it really should be called Eat Right Tonight. There are so many dishes I want to make right now. Grilled Oysters. Pumpkin Pappardelle. Pear and Raspberry Galette. If this is health food, I want to see the light!"
—David Joachim, author of Cooking Light Global Kitchen and collaborator on more than 40 other cookbooks