Nature's Temples: The Complex World of Old-Growth Forests (Hardcover)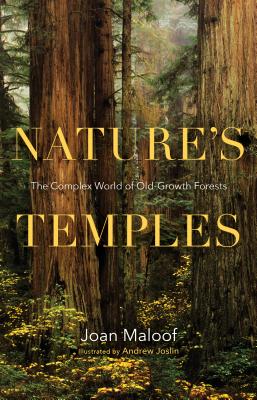 $27.95
Usually Ships in 1-5 Days
Description
---
"Maloof eloquently urges us to cherish the wildness of what little old-growth woodlands we have left. . . . Not only are they home to the richest diversity of creatures, but they work hard for humans too." —New York Times Book Review 
 
An old-growth forest is one that has formed naturally over a long period of time with little or no disturbance from humankind. They are increasingly rare and largely misunderstood. In Nature's Temples, Joan Maloof, the director of the Old-Growth Forest Network, makes a heartfelt and passionate case for their importance. This evocative and accessible narrative defines old-growth and provides a brief history of forests. It offers a rare view into how the life-forms in an ancient, undisturbed forest—including not only its majestic trees but also its insects, plant life, fungi, and mammals—differ from the life-forms in a forest manipulated by humans. What emerges is a portrait of a beautiful, intricate, and fragile ecosystem that now exists only in scattered fragments. Black-and-white illustrations by Andrew Joslin help clarify scientific concepts and capture the beauty of ancient trees.
 
About the Author
---
Joan Maloof is a scientist, writer, and the founder and director of the Old-Growth Forest network, a nonprofit organization creating a network of forests across the U.S. that will remain forever unlogged and open to the public. She studied plant science at the University of Delaware, environmental science at the University of Maryland Eastern Shore, and ecology at the University of Maryland College Park. She is the author of Teaching the Trees and Among the Ancients.
Praise For…
---
"Forests are not just trees. Forests are complex communities. Trees anchor forests like corals anchor reef systems. You can't plant a coral reef system, and you can't plant a forest. Forests can, however, be destroyed. Joan Maloof knows all this as well as anyone and she delivers the message with the reverence appropriate to these upright cathedrals of time." —Carl Safina, author of Beyond Words: What Animals Think and Feel

"Squarely looks at the precarious state of virgin forest." —The Washington Post

"This should be required reading for any misguided developer who believes that planting trees can mitigate the destruction of ancient woodland. Maloof, director of the US Old Growth Forest Network, combines an engaging writing style, scientific rigor and an advocate's skills to document the complexity of the interactions of organisms that have evolved together in forests that have never been felled and replanted, making a powerful case for treating pristine forests as sacred for people and wildlife." —BBC Wildlife

"Due to habitat changes across Earth, a wide variety of information has been written about the loss of biodiversity and the extinction of organisms. In this charmingly written and beautifully illustrated book, Maloof, a forest scientist and writer, uses examples among principal groups of organisms that occupy forests to describe the dependence that a wide range of species have on old-growth forests. . . . This well-written and engaging book is a good introduction to old-growth forests." —Choice 

"Joan's conversational style will disarm any hesitation you might have about wading into the science of carbon sequestration or any of the life cycles of birds, amphibians, snails, insects, herbs, mosses, liverworts, trees, fungi, lichens, worms, or mammals. She puts each topic under the microscope and invites you to take a look and see the incredibly intricate world of old-growth forest ecology. As if that weren't quite enough to make this walk in the woods pretty special, the added beauty of Andrew Joslin's numerous and delicately detailed pencil illustrations bring it all into focus. If you like to walk in the woods, and like to learn as you go, Joan's book will be a treat you will cherish." —Georgia Forest Watch
Congratulations!
Our very own Marie Benedict is #7 on the New York Times Bestsellers List with her enchanting new novel,
The Only Woman in the Room.
Join us in congratulating Ms. Benedict and stop in for a signed copy of her novel!