Super Tokyoland (Paperback)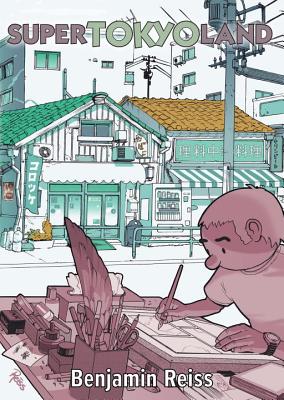 Description
---
A perfect hybrid of European and Japanese comics and a rich exploration of the combined wonder and alienation of immigrant life.

In August 2002, artist Benjamin Reiss flies to Tokyo to spend a year with Kayoko, the Japanese girl he met in France a year earlier. What he finds upon landing is a vast and complex culture, steeped in tradition but full of surprises. As one year stretches into six, Benjamin becomes immersed in the world of sento baths, taiko drums, and bento boxes, while studying cartooning under several masters of manga.
About the Author
---
A graduate of École Émile Cohl, Benjamin Reiss worked on cartoons, video games, and multimedia. In 2002, he launched the series Pourquoi tant d'Amour? at Emmanuel Proust (two volumes published in 2003 and 2004) before leaving for Japan. He is inspired by his own experience for Super Tokyoland.
Praise For…
---
"[Super Tokyoland's] visual style, strongly inspired by manga, enhances the story's tone beautifully... This well-constructed graphic novel illuminates a radically different way of life from European culture." — Planete BD

"Humble, sincere and spontaneous... The drawing is original, and Reiss takes every opportunity to show that he has more than one arrow in his quiver." — Le Bar à BD

"One feels grateful for its sincerity and frankness... Reading Super Tokyoland is a pure moment of pleasure: Travel, cultural discoveries, and guaranteed escapism." — Publik Art