Secret Agent Jack Stalwart: Book 3: The Mystery of the Mona Lisa: France (The Secret Agent Jack Stalwart Series #3) (Paperback)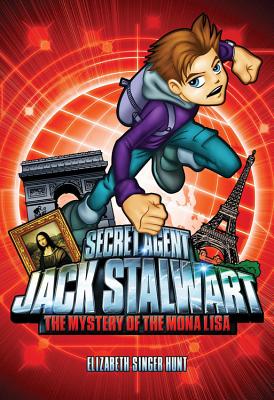 $5.99

Usually Ships in 1-5 Days
Description
---
In The Mystery of the Mona Lisa, Jack is sent to the Louvre Museum in Paris to track down the theft of the world's most beloved painting. He must match wits with a seemingly invisible mastermind in order to stop Leonardo's masterpiece from slipping into the criminal underground forever. Can Jack's Hypo-Disk overpower a glove that shoots laser beams from its fingertips? Jack's adventures in the city of light demonstrate once again that when it comes to outsmarting the baddies, Jack is the go-to agent with endless tricks up his sleeve.
About the Author
---
Elizabeth Singer Hunt is best known as the award-winning author of the Secret Agent Jack Stalwart chapter book series for younger readers. The fourteen-book series has been named a 'must read' for boys by the British Education Secretary, serialized by BBC Radio, and featured on Virgin Atlantic Airways' international flights.

Elizabeth lives in California with her husband and two children, and is an advocate for the Eco-Soap Bank, a public health nonprofit working to save lives in rural Cambodia.