Asset Protection for Business Owners and High-Income Earners: How to Protect What You Own from Lawsuits and Creditors (Paperback)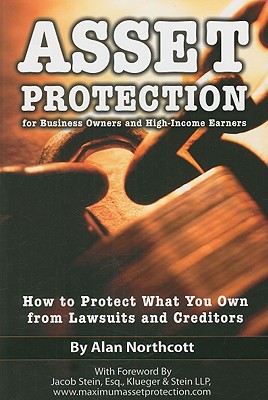 $14.95
Email or call for price.
Description
---
Congratulations You have worked hard for many years and own a booming business; or perhaps you are a successful doctor, attorney, CPA, or another high-income earner. Making that money was difficult; now, you have to create a strategy to keep it.
Unfortunately, you are on the radar with pending lawsuits from other businesses, employees, business partners, past marriages, relatives, the government, or anyone else who thinks they can reach your assets. With a little knowledge and access to the Internet, anyone can discover a lot of information about you, including: your home, cars, boats, real estate, bank, and investment accounts - essentially everything you own. Lawsuits are rampant in this country. Statistics show there is one attorney in this country for every 300 residents; there are an estimated 150,000 people in law school as we speak. On average, 80,000 lawsuits are filed each day. When you are sued, it is too late to protect your assets. You are exposed. Fortunately, you can act now to protect yourself and family later. In this easy-to-read and comprehensive book, you will learn the simple steps you need to do to protect yourself before there is a problem. The book provides a number of worksheets to help you decide the best plan of action for your financial position and personal needs. You will learn the ins and outs of protecting yourself and your family through legal methods, such as corporations, family limited partnerships and trusts, family saving trusts, offshore trusts corporations, and limited liability companies (LLCs). You will learn how to reposition your assets into legal entities that you control, creating bullet-proof security. You will learn about irrevocable living trusts, creating and maintaining LLCs, equity-stripping techniques, privacy plans, durable power of attorney, bankruptcy legislation, and estate planning for high-income individuals, as well as living, testamentary, and pour-over wills. The trick is to own nothing directly but control everything legally. Once your assets are repositioned and protected, attorneys mostly working on contingency fees are not going to sue you because they have nothing to gain, and since 98 percent of all lawsuits are only about the money, how can they legally take it from you? With the sound guidance in this book, you will be able to protect your hard earned assets. Atlantic Publishing is a small, independent publishing company based in Ocala, Florida. Founded over twenty years ago in the company president's garage, Atlantic Publishing has grown to become a renowned resource for non-fiction books. Today, over 450 titles are in print covering subjects such as small business, healthy living, management, finance, careers, and real estate. Atlantic Publishing prides itself on producing award winning, high-quality manuals that give readers up-to-date, pertinent information, real-world examples, and case studies with expert advice. Every book has resources, contact information, and web sites of the products or companies discussed.
About the Author
---
Alan Northcott is a successful financial author and trading educator, having been writing in the sector for some years. He has ten conventionally published books which were completed with Atlantic Publishing, and more recently has self published four more. In addition to the books published under his name, Northcott has ghostwritten several other books and regularly contributes articles and other writing for a variety of print and online clients. Other facets of his life have included being a professional engineer, radio broadcaster, farmer, karaoke jockey, and wedding officiant, along with other pursuits. He and his wife live in Florida, and they share their house with many dogs and cats. They have three children living on three different continents, and two grandchildren. Originating from England, Northcott was educated at Eltham College in London and obtained his degree from the University of Surrey, also in England. He immigrated with his wife to America in 1992. His engineering career spanned more than 30 years, on both sides of the Atlantic, and recent years have found him living a more diverse, fulfilling lifestyle. He offers a free newsletter on various related and unrelated topics. You can e-mail him directly at alannorthcott@msn.com for more details.