Breaking News: Bear Alert (Hardcover)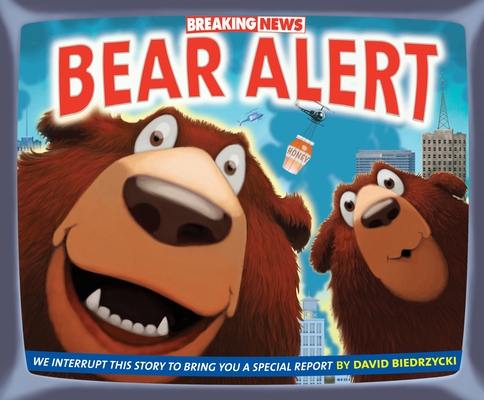 Other Books in Series
This is book number 1 in the Breaking News series.
Description
---
We interrupt your day for this breaking news. . .

Two bears awaken from hibernation and go to town—literally. During their visit, they eat at a diner, dress up at a department store, and stop a couple of bank robbers, all the while mistaking the townspeople's terror for friendliness. The news-reporting-style of storytelling puts readers in the action and on the edge of their seats. Illustrations jam-packed with puns, clues, and jokes will have the whole family or classroom laughing out loud and eager to find out what happens next—will the bears terrorize the town? Will the cat burglars be caught? Will the city come to a grinding halt?

Tune in to find out.

We now return you to your regularly scheduled day.
About the Author
---
David Biedrzycki is the author and illustrator of Groundhog's Runaway Shadow, as well as the Breaking News series, the Me and My Dragon series, and the Ace Lacewing, Bug Detective series. He has also illustrated many picture books, including Jerry Pallotta's The Beetle Alphabet Book, The Boat Alphabet Book, The Freshwater Alphabet Book, and Dory Story. David lives in Massachusetts with his wife and three children.
Praise For…
---
Curious bears trigger a media frenzy. It all starts when Jean Louis, the host of the kids' show Our Furry Planet, pokes a sleeping bear. The bear rears up, startled. Jean Louis flees, and the bear's not far behind. He and a pal perch atop the Our Furry Planet truck gleefully, with arms in the air as if riding a roller coaster. Across the bottom of every double-page spread, updates appear in a blue ribbon, just like on the TV news channels. Except here, the updates are dire while the bears are clearly no threat. As people run screaming through the streets, the bears calmly take in the sights. When two terrified kids abandon their toy vehicles, the bears happily jump on. (Mom's so excited to be on television she doesn't notice a thing.) In hats and human clothes, the bears go unnoticed at a department store. (Hysterically, the mail bear's outfit resembles Paddington's, while the female's dress looks an awful lot like the Berenstains' Mother Bear's.) Outside, the bears make a beeline for an ice cream truck, inadvertently interfering with robbers making a getaway. In an instant, the bears go from fugitives to media darlings. Biedrzycki delivers a genuine message with a light touch. His Adobe Photoshop illustrations are bold and playful, appropriately reminiscent of vintage Hanna-Barbera and a good match for the slapstick story.
Fun and topical.
-Kirkus Reviews

Chaos reigns in this mock televised caper, when a children's nature show called Our Furry Planet is interrupted by a bulletin about two bears on the loose. The brown, cartoonish bears ramble along upright, try out binoculars acquired from the frightened Furry Planet host, and appear oblivious to the panic they cause as they dance in the streets and visit a photo booth. Biedrzycki (Me and My Dragon), whose illustrations call to mind Dan Santat's work in the Oh No! books, composes the landscape-oriented pages as a wide-screen, high-definition news broadcast, complete with man-on-the-scene interviews--a clueless mother is too busy with her phone to notice the bears; a diner cook explains his refusal to serve the "barefoot" bears--a scrolling blue ticker with updates from a "Skycam 3" helicopter, and multiple security videos. Two burglars and their cat take advantage of the fray, as seen on video at a "Paddington's" department store, until the bears accidentally foil the crooks and are deemed heroes. Bear wordplay, puns, and children's book references abound in this romp, which comically exploits our cultures of distraction and surveillance.
-Publishers Weekly