Invasive Alien Species: A New Synthesis (Scientific Committee on Problems of the Environment (SCOPE) Series #63) (Paperback)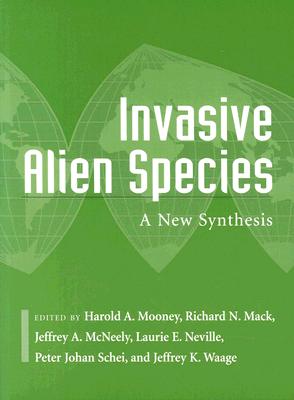 Description
---
Invasive alien species are among today's most daunting environmental threats, costing billions of dollars in economic damages and wreaking havoc on ecosystems around the world. In 1997, a consortium of scientific organizations including SCOPE, IUCN, and CABI developed the Global Invasive Species Programme (GISP) with the explicit objective of providing new tools for understanding and coping with invasive alien species.
Invasive Alien Species is the final report of GISP's first phase of operation, 1997-2000, in which authorities from more than thirty countries worked to examine invasions as a worldwide environmental hazard. The book brings together the world's leading scientists and researchers involved with invasive alien species to offer a comprehensive summary and synthesis of the current state of knowledge on the subject.
Invasive alien species represent a critical threat to natural ecosystems and native biodiversity, as well as to human economic vitality and health. The knowledge gained to date in understanding and combating invasive alien species can form a useful basis on which to build strategies for controlling or minimizing the effects in the future. Invasive Alien Species is an essential reference for the international community of investigators concerned with biological invasions.
About the Author
---
Jeff McNeely served as Chief Scientist of IUCN until retirement in July 2009, and as Senior Science Advisor until March 2012. He has recently worked with the Government of Tanzania on World Heritage issues and the Government of Japan, also on World Heritage issues as well as protected areas and natural hazards and advising on the content of the Asia Parks Congress. He has worked on protected areas for the World Bank, the Asian Development Bank, and numerous bilateral agencies/NGOs in over 80 countries. His publications comprise over 40 books and 500 scientific and popular papers on various aspects of conservation seeking to link conservation of natural resources to the maintenance of cultural diversity and to economically-sustainable ways of life. He serves on the editorial advisory board of seven biodiversity-related journals.
Praise For…
---
"...provides a new foundation for everyone interested in the biological, socioeconomic, policy, or management implications of biological invasions."

— CHOICE

"Well referenced. A truly comprehensive state-of-the-issue kind of text."

— Northeastern Naturalist

"An outstanding summary of the results of Phase I of the Global Invasive Species Program, this volume presents up-to-date syntheses of important aspects of how to manage this worldwide problem. In ample, well-written chapters, it provides sound advice in areas that range from prediction of invasiveness and practical management to economics and the law. It will reward careful study by all those concerned with these problems!"

— Peter H. Raven

"Another benchmark volume from SCOPE. A comprehensive synthesis of the greatest challenges to biodiversity in the 21st century, as the negative synergies of climate change, land transformation, and invasions of ecosystems by aggressive alien species accelerate in the absence of adequate response strategies. This book, elegantly researched and presented in the Island Press tradition, crystallizes the results of over a century of good science and hard lessons that help us understand and combat the negative impacts of invasive alien species."

— Brian Huntley

"No better entrée exists for the diverse issues surrounding invasive alien species. This volume charts a coherent way forward from increased understanding at the scientific level to successful reduction of the unintended harm that results from moving species around the globe. Up-to-date coverage is provided of the biological issues, risk characterization, legal and policy instruments, on-the-ground management, the various ways in which humans are both responsible for and suffer from invasive alien species, and other topics essential to an effective societal response. Finally we have a rigorous volume that unites descriptions of the problems with suggested solutions."

— David M. Lodge