Border: A Journey to the Edge of Europe (Paperback)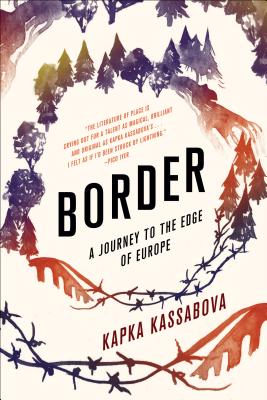 $16.00

Usually Ships in 1-5 Days
Description
---
"Remarkable: a book about borders that makes the reader feel sumptuously free." —Peter Pomerantsev

In this extraordinary work of narrative reportage, Kapka Kassabova returns to Bulgaria, from where she emigrated as a girl twenty-five years previously, to explore the border it shares with Turkey and Greece. When she was a child, the border zone was rumored to be an easier crossing point into the West than the Berlin Wall, and it swarmed with soldiers and spies. On holidays in the "Red Riviera" on the Black Sea, she remembers playing on the beach only miles from a bristling electrified fence whose barbs pointed inward toward the enemy: the citizens of the totalitarian regime.

Kassabova discovers a place that has been shaped by successive forces of history: the Soviet and Ottoman empires, and, older still, myth and legend. Her exquisite portraits of fire walkers, smugglers, treasure hunters, botanists, and border guards populate the book. There are also the ragged men and women who have walked across Turkey from Syria and Iraq. But there seem to be nonhuman forces at work here too: This densely forested landscape is rich with curative springs and Thracian tombs, and the tug of the ancient world, of circular time and animism, is never far off.

Border is a scintillating, immersive travel narrative that is also a shadow history of the Cold War, a sideways look at the migration crisis troubling Europe, and a deep, witchy descent into interior and exterior geographies.
About the Author
---
Kapka Kassabova is the author of three poetry collections, the novel Villa Pacifica, and the acclaimed memoirs Street Without a Name: Childhood and Other Misadventures in Bulgaria and Twelve Minutes of Love: A Tango Story. She lives in Scotland.
Praise For…
---
"It's not surprising that Kassabova—who has written three poetry collections, a novel and three memoirs—demonstrates a descriptive sensitivity on the page. . . . But she also possesses a gift that's bestowed on only the best of travel writers: an ability to zero in on characters who illuminate the condition of a place in time."—The New York Times Book Review

"Kassabova's sense of adventure and spontaneity, combined with a lack of artifice . . . are winning qualities in a narrator. . . . Kassabova's gifts as a poet shine when she describes the mystical, powerful landscape, the book's true protagonist."—Newsday

"Rich with a profound sense of the region's political and cultural history, this travelogue moves at an often meandering pace, its narrative broken up by condensed musings on personal conflict, historical ephemera or folklore. . . . Kassabova devotes herself to intimate vignettes that sparkle with the dark charm of fairy tales and mystical fables. . . . Hosts and drivers, fellow travelers and cynical locals provide a constant hum that reinforces the tension of a territory under constant contest."—Star Tribune (Minneapolis)

"Kassabova is local enough to dig out the details, and at the same time detached enough to see things without judging them. She observes, listens, and narrates without distorting the story with her opinion. She's a messenger. A very fair one. In the current state of the world's refugee crisis, Border is a reminder that those who cross the borders are not just numbers. They are people, and bearers of stories that deserve to be heard."—The Christian Science Monitor

"It's the story of migration, both modern and historical, of boundaries crossed and crossed out, a story as old as the soil itself."—Literary Hub

"[A] marvelous new travelogue. . . . Border is that rarest of things: a travel book with a conscience that is also a compendium of wonders."—Los Angeles Review of Books

"Kassabova's sense of adventure and spontaneity, combined with a lack of artifice . . . are winning qualities in a narrator. . . . Kassabova's gifts as a poet shine when she describes the mystical, powerful landscape, the book's true protagonist. . . . We are left with a clear emotional and sensory imprint of the Balkan borderlands."—Pioneer Press (St. Paul)

"A poetic, thoughtful, and timely exploration of the borderlands of the eastern Balkans."—Geist

"An ethereal siren's song woven from the myths, legends, and languages that converge in the borderland. . . . The result is a portrait of a place out of time, separate from the countries the speakers inhabit—a distinctive space that the reader can enter too after falling under Kassabova's spell. Reading Border is a dizzying reminder of the common humanity found on either side of any border."—The Christian Century

"This may very well be the best book I've read this decade."—Alex Balk, The Awl

"Kassabova's book is closer to a superbly executed work of anthropology. What sets it apart is the brilliance of her prose: time and again the lurking poet bursts forth."—Current History

"[An] engrossing travelogue. . . . Kassabova proves to be a penetrating and contemplative guide through rough terrain."—Publishers Weekly, starred review

"As Kassabova travels through the hinterlands of Bulgaria, along the border where that country meets Turkey and Greece, she discovers that borders shape the lives of both those who attempt to cross them and those who live nearby. . . . Border offers a dark look at a world of smugglers and spies, where the past maintains its hold even as people struggle to reach a brighter future."—Booklist

"A dreamlike account that subtly draws readers into the author's ambivalent experience of a homeland that has changed almost beyond recognition."—Kirkus Reviews

"This is an exceptional book, a tale of travelling and listening closely, and it brings something altogether new to the mounting literature on the story of modern migration. . . . [At a moment] when asylum-seekers are adrift from one end of the world to the other, Border makes for timely reading."—New Statesman (UK)

"Riveting, beautifully written. . . . Kassabova, a poet and novelist as well as an essayist, is ideally placed to take us on a journey to a corner of Europe that even today seems exotic and little known. . . . In this region nearly everyone is at only one or two generational removes from exile and displacement, scattered among three alphabets and several nations; and along the way Kassabova meets treasure-hunters, refugees, retired spies, smugglers, hunters, botanists, healers, artists, Gypsies (Roma), forest rangers and -border guards. . . . Her wry wit leavens the narrative and keeps it from collapsing under the weight of cumulative tragedy. . . . This is travel writing with lexical precision ("transhumance", "karst") and a sense of adventure, but with a distinctively female slant. . . . With the best of travel writers, Kapka Kassabova is an explorer, viewing everything with the eyes of discovery, even as she uncovers strata of history and legend. She makes us long to peer closely at the map, and see these wondrous places for ourselves."—The Times Literary Supplement (UK)