Wake's Edge (Take It to the Xtreme #7) (Paperback)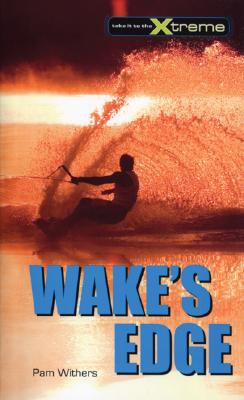 $6.95
Email or call for price.
Description
---
Since the Take It to the Xtreme series was launched, 15-year-old best friends Jake and Peter have survived whitewater rapids, an avalanche, a forest fire, movie stunt work, killer surf waves, perilous rock-climbing, and much, much more.
In this latest installment of the series, Jake and Peter are junior instructors at a noisy wakeboard school that is attempting to share a remote lake with a community of save-the-Earth society dropouts (otherwise known as hippies) .
Jake and Peter love performing their own tricks behind a powerboat driven by the school's founder, a macho young wakeboard fanatic known as "the party animal." Then, Peter decides to encourage the wild streak in a rebellious hippie girl across the lake. She runs away to hide in a nearby abandoned sawmill, only to discover it's not as abandoned as it looks. Community tensions soon erupt -- and the boys get more than they bargained for.
About the Author
---
Pam Withers lives in Canada's "Adventure Central", Vancouver, British Columbia. When not in the outdoors, this award-winning author helps writers with editing, book proposal writing, manuscript evaluation, writer coaching, and other services in the publishing field.