Peak Survival (Take It to the Xtreme #2) (Paperback)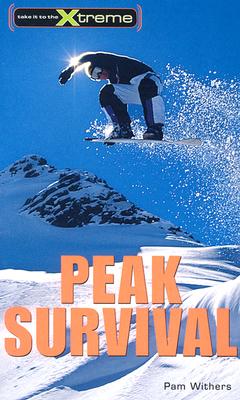 $6.95
Email or call for price.
Description
---
Jake, Peter and Moses are thrilled to spend their spring break helicopter skiing in the mountains. Jake, already a junior guide, is helping to train Peter. Moses, the helicopter pilot's son, is along for the fun. At the same time, Fiona, a snowboarding fanatic from England, is embarking on a snowboarding adventure on a nearby peak.
Soon after takeoff, Fiona's helicopter crashes, killing the pilot and guide. The three boys -- themselves stranded due to unexpected weather conditions -- realize they must try to help her. Minutes after they rescue her, an avalanche rips the group apart and buries Jake. After rescuing Jake, the four recognize that they must save themselves.
Thus begins their perilous ten-day descent. Faced with everything from finding shelter and surviving the cold, the group must use their skills to help each other survive. Do they have what it takes to make it out alive?
About the Author
---
Pam Withers is as passionate today about outdoor adventure as she was while growing up in Wisconsin and the Dakotas. Throughout her career as an editor, journalist and associate publisher, Pam has pursued her passion for adventure sports as a whitewater raft guide and kayak instructor. She has been an associate editor of Adventure Travel magazine in New York. She currently lives in Vancouver, British Columbia with her husband and son.