Redemption (Memory Man series #5) (Hardcover)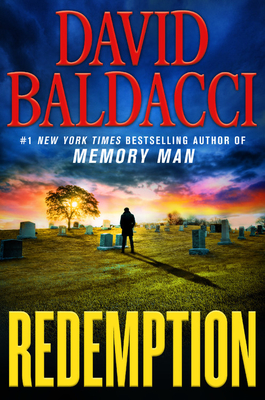 $29.00
Coming Soon - Available for Pre-Order Now
Description
---
Detective Amos Decker discovers that a mistake he made as a rookie detective may have led to deadly consequences in the latest Memory Man thriller in David Baldacci's #1 New York Times bestselling series.

Amos Decker and his FBI partner Alex Jamison are visiting his hometown of Burlington, Ohio, when he's approached by an unfamiliar man. But he instantly recognizes the man's name: Meryl Hawkins. He's the first person Decker ever arrested for murder back when he was a young detective. Though a dozen years in prison have left Hawkins unrecognizably aged and terminally ill, one thing hasn't changed: He maintains he never committed the murders. Could it be possible that Decker made a mistake all those years ago? As he starts digging into the old case, Decker finds a startling connection to a new crime that he may be able to prevent, if only he can put the pieces together quickly enough...

About the Author
---
David Baldacci is a global #1 bestselling author, and one of the world's favorite storytellers. His books are published in over 45 languages and in more than 80 countries, with over 130 million worldwide sales. His works have been adapted for both feature film and television. David Baldacci is also the cofounder, along with his wife, of the Wish You Well Foundation, a nonprofit organization dedicated to supporting literacy efforts across America. Still a resident of his native Virginia, he invites you to visit him at DavidBaldacci.com and his foundation at WishYouWellFoundation.org.
Praise For…
---
PRAISE FOR THE MEMORY MAN SERIES:

"Baldacci is a wonderful storyteller, and he incorporates wonderful characters into baffling conspiracies....He takes on small-town America, capturing both good and bad elements. He demonstrates why these small towns are worth saving. It's a theme he has explored before, but it still has potency and relevance."—Associated Press on The Fallen


"A compelling puzzler...Baldacci is a truly gifted storyteller, and this novel is a perfect "fix" for the thriller aficionado."—Associated Press on The Fix


"Decker is one of the most unusual detectives any novelist has dreamed up...a master class on the bestseller....Highly entertaining."—Washington Post

"Crackling with tension...Reads at a breakneck pace...Bestselling author David Baldacci delivers a thrill ride, as always. Big time. Pick up THE FIX, and you won't put it down until you reach the end. Guaranteed."—BookReporter.com on The Fix

"Amos Decker is an amazing character. Reading how Decker journeys from hitting rock bottom to finding ultimate redemption is nothing short of rewarding."—Associated Press

"Perennial bestseller Baldacci unveils an offbeat hero with an unusual skill set and tragic past who takes on the evil mastermind behind a devastating school shooting..[Decker] proves a quirky, original antihero with a definite method to his madness...Readers will want to see Decker back on the printed page again and again."—Kirkus Reviews on Memory Man


"Baldacci's novels always have an emotional component...But MEMORY MAN stands out among his thrillers for its deeply felt - and earned - sense of catharsis and healing...Baldacci's last few books have been among his best, and it's a pleasure to see him produce emotionally and dramatically intense work at the height of his maturity as a novelist."—Richmond Times-Dispatch on Memory Man

Congratulations!
Our very own Marie Benedict is #7 on the New York Times Bestsellers List with her enchanting new novel,
The Only Woman in the Room.
Join us in congratulating Ms. Benedict and stop in for a signed copy of her novel!