In Trump's Shadow: The Battle for 2024 and the Future of the GOP (Paperback)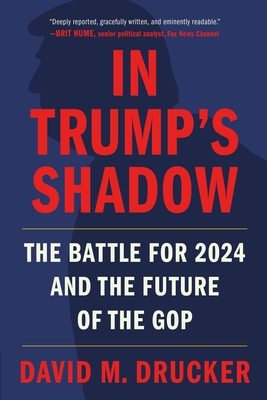 Description
---
Based on extensive reporting, a Game of Thrones-like telling of what comes next for the factions and families within the Republican Party as they plot for supremacy in the post-Trump era.
With Trump's four years in the White House now in the rearview, an unprecedented period in American political history is concluded. The transition, however, has set off a mad scramble for control of a Republican Party that for so long has reflected the domineering image of one man—and might even still in the years ahead. Who emerges from the warring factions and familial rivalries that proliferated and quietly festered during Trump's presidency could determine the fate of the GOP for a generation, and the first hint of what's to come begins with the 2024 campaign to crown the first Republican nominee, and national party leader, of the post-Trump era.

With Trump's exit, a singular era in American political history has ended—and the Republican Party, whose identity had for so long been centered around one man, will be forced to redefine itself for the future.

Featuring profiles of everyone from Mike Pence, Mike Pompeo, and Nikki Haley to Marco Rubio, Ted Cruz, and those in the Trump family, In Trump's Shadow tells the story of a GOP under—and after—the forty-fifth president, and all of those jousting for influence over the party's direction in the wake of Donald Trump.
About the Author
---
David M. Drucker is a senior correspondent for the Washington Examiner, where he focuses on Congress, campaigns, and national political trends. Prior to joining the Washington Examiner, he was a reporter for Roll Call, a newspaper in Washington, D.C. Before joining Roll Call, Drucker covered California politics, and Gov. Arnold Schwarzenegger, from the Sacramento bureau of the Los Angeles Daily News. Drucker graduated from UCLA with a BA in history, and spent eight years managing a family-run manufacturing business in Southern California, giving him a unique perspective on how what happens inside the Beltway affects the rest of the country. Drucker is a Vanity Fair contributing writer and regular on cable news and nationally syndicated radio programs. A native of Los Angeles, Drucker resides on Capitol Hill with his wife and two sons.
Praise For…
---
"David Drucker is a part of a sadly vanishing breed of political reporters who want to know what the story is, not what they wish it would be. David's analysis is fact-driven, superbly sourced and fair-minded. His work is an essential tool for understanding the 2024 landscape."—Chris Stirewalt, author of EVERY MAN A KING

"Even as the avalanche of books looking backwards at the events of the Trump Presidency continues to crush reviewers, David Drucker had the wisdom—to look ahead! The 2024 GOP contest for the right to lead the party in the presidential contest is at least the equal of any modern campaign in suspense and it's going to take a three tiered platform to get all the candidates on to the debate stage at the same time. Drucker is the only reporter to at least get the list of possible Republican candidates right as 2021 slides towards 2022. That's because he's a reporter's reporter. Drucker's a weekly guest on my radio show simply because he's always ahead of the curve…and is so again with this book."—Hugh Hewitt, host of "The Hugh Hewitt Show"

"David Drucker serves up well-reported portraits of a host of Republican and conservative players, neatly capturing their struggles to navigate the strange new world of post-Trump GOP politics. Watching the 2024 hopefuls adapt to the GOP base's hunger for Trumpian performative populism, racial dog whistling, and own-the-libs bluster is almost enough to make you pity them. Almost."—Greg Sargent, Washington Post columnist

"This is a book that tries to answer the question we're all asking: What, exactly, is the future of the post-Trump Republican party? An essential read for anybody who cares about our politics and the country's political future."—Eliana Johnson, editor-in-chief, Washington Free Beacon

"Deeply reported, gracefully written, and eminently readable. Hurray for David Drucker!"—Brit Hume, senior political analyst, Fox News Channel

"One man may dominate the race, but IN TRUMP'S SHADOW is a comprehensive and indispensable form guide to the wide field of contenders for what may be a tumultuous Republican presidential contest in 2024."—Gerard Baker, editor-at-large, The Wall Street Journal

"Drucker delivers."—Kirkus

"Extensively reported."—Publishers Weekly