Animals Being Derps 2021 Wall Calendar: The Internet's Funniest Animals at Their Goofiest (Calendar)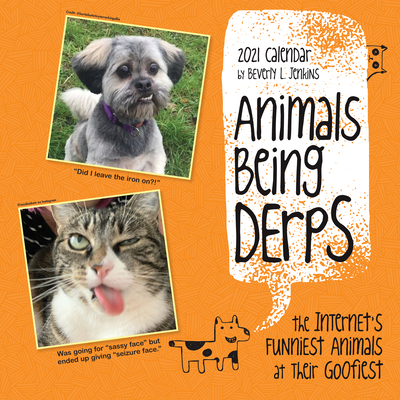 Description
---
When they make silly faces, strike awkward poses, or stumble into outrageous predicaments, our goofy animal friends bring a smile, brighten a day, and make us laugh out loud at their derpiness.
The derp factor is at its funniest in this all-new calendar featuring sidesplitting animal photos and hilarious captions from humor writer Beverly L. Jenkins. Whether it's a cat running into wall, a squirrel striking an awkward pose, or a puppy sleeping in the strangest of places, these one-of-a-kind moments are sure to make you laugh.
The 2021 wall calendar features four of the funniest photos of goofiest animals at their derpy best each month. Other features include:
Generous grids provide space to add appointments and reminders
Opens to 12 inches x 24 inches
Pre-planning spread for September–December 2020
Includes widely celebrated and nationally recognized holidays and observances
About the Author
---
Beverly Jenkins is a humor and pop culture writer with a background in television news production. She specializes in spotlighting the most hilarious web content and has a knack for bringing web-based humor to print. She has written several books and daily calendars about funny web trends, from photobombs to hilarious job-related fails. She has also written extensively for About.com, ThoughtCo, CollegeHumor, Oddee, and Photoshop Disasters.